Win Tickets To See Terrapin Flyer with Mark Karan & Melvin Seals + This Must Be The Band on March 2nd at The Abbey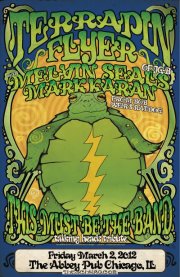 Grateful Dead and Talking Heads on the same bill?  It never happened when these bands were together, but Chicagoans get a chance to see some of the foremost re-creators of this music on the same stage -- Friday March 2nd at The Abbey.  This Must Be The Band plays a two hour set starting at 9 p.m., while Terrapin Flyer closes the evening with a super long set featuring both the distinctive organ and keys work of JGB alum Melvin Seals and guitarist Mark Karan of Ratdog.  Strap yourself in for a wild, funky night of music.
The Barn, in conjunction with The Abbey is happy to be offering a chance for free admission to this inspired double bill.  Entry is super easy, and just takes two simple steps:
1.  LIKE The Barn on facebook or FOLLOW @thebarnpresents on Twitter
2. Respond to this facebook event as "Yes" and post a simple message to the event's wall tagging "The Barn" or mention @thebarnpresents in a tweet or send an email to info@tomorrowsverse.com with your name
You can be entered into the contest up to three times (one for responding to the facebook event, one for a twitter mention, and one for an email).  Just make sure you are following us.
That's it.  You're entered.  One winners will be selected via random drawing of all qualified entrants at random.org on Thursday morning, March 1st.  The Barn notify you via facebook or twitter immediately after.
Good luck!