Jerry Garcia Band with Clarence Clemons @ Poplar Creek 9/16/89: Stream & Download
Jerry Week (aka The Eight Day Week aka The Days Between), the period between the celebration of Jerry Garcia's birthday (8/1)  and the contemplation and memorialization of the anniversary of his death (8/9), hit the blogosphere this year with a ton of activity, a flurry of sharing of music and memories.  Since the 1st of August, the pace has slowed, so I wanted to offer this set towards the end of the week to keep the memories flowing.
Not only did this show take place at the fondly remembered suburban Chicago shed Poplar Creek, but it also features a show-long guest appearance by another recently departed musical hero:  The Big Man Clarence Clemons.  Although Deadheads tend to drift towards melancholy as we approach the 9th, and there's a little extra here now since Clarence was also taken from us way too soon, there is so much joy to be heard in this recording that it should generate fond memories of both big men.
Download entire show (.zip mp3)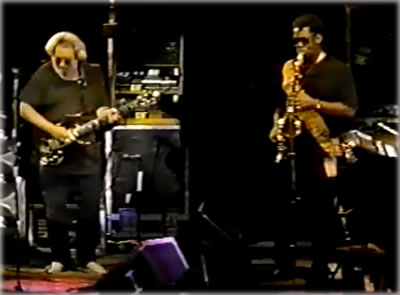 Setlist
Jerry Garcia Band
9/16/89 Poplar Creek, Hoffman Estates, IL
One: Cats Under The Stars, They Love Each Other, Let It Rock, I Shall Be Released, Someday Baby, Dear Prudence, Let's Spend The Night Together
Two: How Sweet It Is, Knockin' On Heaven's Door, Think, Waiting For A Miracle, Evangeline, The Night They Drove Ol' Dixie Down, Tangled Up In Blue
Entire show features Clarence Clemons on saxaphone