Stream or Download | Neil Young & Promise Of The Real @ SLO Brewing Company, San Luis Obispo, CA 4/16/15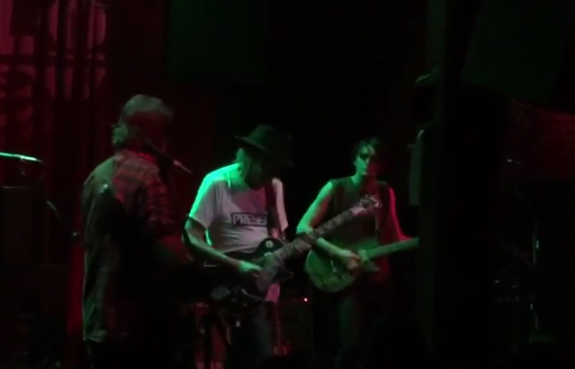 Pinch me.  Neil Young playing at a brewery with two of Willie Nelson's kids, debuting a ton of new tunes, most of which are filled with righteous anger about corporate disregard for the earth's fragile ecology.  When news broke about this gig last weekend, it seemed like a dream.
The videos that emerged the next day were nice, but didn't really focus on the new material.  I suspected that what really went down would be left to the memories of the 450 people in attendance that night, but then this heroic recording from Whiskeyrecordings surfaced on Trader's Den.
Many thanks to the taper and all involved in getting this recording up.  It's not a perfect document.  The Zoom H1 recording used malfunctioned and only captured the left channel (this was edited  upon transfer by kingrue, who balanced and tracked the recording).  The second set opening "Walk On" was missed (video is included below).
But what is here is quite remarkable.  Neil and crew going to town in a small club.  Nine live debuts.  Plenty of classic Neil. As somebody who hates when historic recordings like this are stuck in torrent land, I've made it available here for stream and iTunes ready download.
Happy Earth Day!
The Stream
[box type="download"]Download Entire Set (mp3 .zip)[/box]
Neil Young - April 16, 2015

Neil Young - Guitar and Vocals
Lukas Nelson - Guitar
Jacob Micah Nelson - Guitar
Corey McCorkmick - Bass
Anthony Logerfo — Drums

Set 1:
01. Country Home
02. People Want to Hear About Love (live debut)
03. New Day for the Planet (live debut)
04. Down by the River
05. Too Big Too Fail (live debut)
06. Rock Starbucks (live debut)

Set 2:
missing: Walk On
07. Monsanto Years (live debut)
08. I Don't Know You (live debut)
09. Seeds (live debut)
10. Everybody Knows This Is Nowhere
11. Big Sky Wolf Moon (live debut)
12. Love and Only Love
13. Workin Man (live debut)
14. Country Home
15. Crowd Cheer
16. Roll Another Number (For the Road)

Total Time = 119:53 min