Notes From The Jazz Underground Honors Prince & Mingus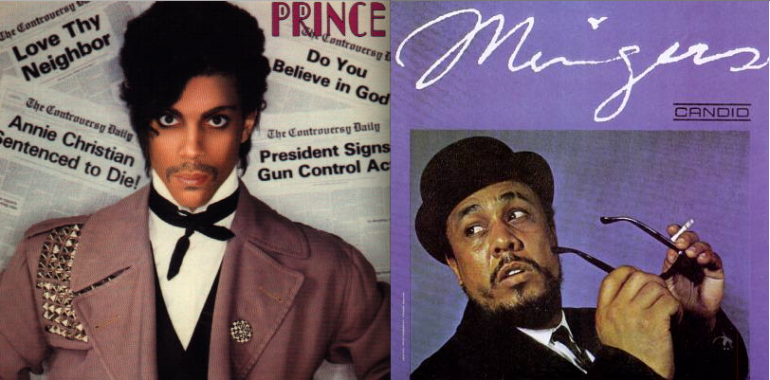 This edition of  Notes From The Jazz Underground was culled from the April 22nd broadcast, Charles Mingus' birthday.
What was planned as a straight tribute set to Mingus was hijacked a few days before by the untimely passing of Prince.
That's great news for radio listeners, but for those checking in to our site for the streamable playlist, Prince has famously pulled his material from Spotify, our streamer of choice, and same applies to many of the covers.  Of the five jazz covers that Paul selected, only one -- Herbie Hancock's "Thieves In The Temple" -- was available on the service.  We've added a few from YouTube below, but Deep Blue's "Raspberry Beret" remains MIA.  You're on your own for Prince's own cuts.
But we're 100% on the Mingus hour.  Here's how Abella introduced it last Friday:
Mingus, for me, is where all of my musical obsessions come together. The man who wrote "My Jelly Roll Soul", "Gunslinging Bird" and "The Black Saint and the Lady Sinner" is clearly versed in the whole of jazz history.  And as a jazz nerd, I love that.

The Jazz Workshop idea of collective improvisation that we hear on the 1964 European tour with Eric Dolphy, Clifford Jordan and Jaki Byard - that's the Dead, all over again.  The righteous anger is Fugazi, the ability to laugh at power is Black Flag, and the monumental energy that he brought to every note he played, well, Mingus, is more metal than every metal band ever. I love Mingus. For those of you that listen to this show often, you know that this isn't the first Mingus blow out that we've done, and it won't be the last, either.
The hour of music presented here touches on avant garde jazz with Eric Dolphy, an explosive trio session (with Duke Ellington on piano), two from his amazing 70's band with George Adams and Don Pullen, Gospel Jazz (for lack of a better term) and one of the most powerful jazz jams ever in "I.I.B.S". That's a lot of ground to cover.
Sign of the Times - Steven Bernstein
Darling Nikki - Steven Bernstein
Diamonds & Pearls - Marcin Wasilewksi
Purple Rain - Bob Belden & Holly Cole
Complete Playlist
| | | |
| --- | --- | --- |
| Song | Artist | Album |
| Raspberry Beret | Deep Blue Organ Trio | Deep Blue Bruise |
| Kiss | Prince | The Hits + B Sides |
| Diamonds & Pearls | Marcin Wasilewski Trio | January |
| Darling Nikki | Steven Bernstein | MTO Volume 1 |
| Alphabet Street | Prince | Lovesexy |
| Cream | Prince | Diamonds and Pearls |
| Thieves in the Temple | Herbie Hancock | The New Standard |
| Sign O' the Times | Sex Mob | Din of Inequity |
| Seven | Madhouse | 8 |
| Purple Rain | Bob Belden | When Doves Cry: The Music of Prince |
| II B.S. | Charles Mingus | Mingus, Mingus, Mingus, Mingus, Mingus |
| Money Jungle | Duke Ellington | Money Jungle |
| Eat That Chicken | Charles Mingus | Oh Yeah |
| Remember Rockefeller at Attica | Charles Mingus | Changes One |
| Big Alice | Charles Mingus | Mingus Moves |
| What Love | Charles Mingus | Mingus at Antibbes |
| Wednesday Night Prayer Meeting | Charles Mingus | Blues and Roots |