Preview: Hotel Blotto 2012 @ Best Western LaPorte, February 24 & 25
It's Mark Hague's favorite event of the year, and it's a welcome relief for those that are have the festival jones big time in the heart of this oddball winter.  Hotel Blotto returns to the Best Western in LaPorte, IN on February 24th and 25th.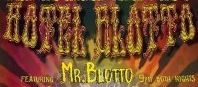 This year's festival also features Chester Brown and Old Shoe in addition to headlining sets by Mr. Blotto and will have a Pulp Fiction Theme ("Jungle Boogie", anyone?).  For reservations, contact the hotel directly at 219-362-4585 and ask for Blotto rooms -- of course, the entire hotel will be dedicated to this unique event.  Those who wish to forgo overnight accommodations are also welcome to attend the party without a stay.
Here's a peak at last year's Animal House themed event.
Stream The Animal House Mini-set from Hotel Blotto 2011
Download The Entire Set (via archive.org)
"Here We Are" from Hotel Blotto 2011

A cool preview video from last year's show: