The Barn's 2011 Holiday Mix - Jambands and Beyond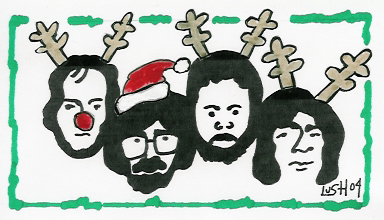 The Barn's 2010 Holiday Mixtape was subtitled A Very Jamband Christmas and justifiably so -- it's intent was to collect a CD length holiday playlist that showcased the style of improv-leaning bands on Christmas classics.  Though at the time I thought I had cultivated the cream of jamband holiday fare, it became obvious that more material was available, and a sequel was put in the works.  This time the process of discovery and assembly led to inclusion of a handful of artists that transcend the label jamband, but do make incredible music that fans of Phish, The Dead and others can certainly sink their teeth into.
Whether it's classic rock, some neo-soul, bluegrass, or some other unclassifiable take on Christmas music, you'll find a smattering of original tunes and inspired covers that'll get you through the season with a smile.  In fact, no fewer than three tunes included have "adult" themes.  Enjoy this year's mix and have a great new year!
The Stream
[box type="download"]Download entire mix (.zip mp3)[/box]
Here's what you're listening to:
Fact: J.J. Grey has got soul.  So much so that he and his band Mofro honestly make you believe in three things that might not otherwise have a chance: " Santa Claus True Love & Freedom" (7/5/01).
I may be stretching it with this pick, but couldn't help but notice while listening to one of Umphrey's McGee's recent podcasts, that the improv out of "Thin Air" from 2/5/02 develops nicely into a jam that sounds quite like the main theme of "Dance Of The Sugar Plum Fairy" from Tchaikovsky holiday ballet classic The Nutcracker.
The next selection only seems to make into Animal Liberation Orchestra's set lists round Christmas time, but I guess that makes sense as this cheerful and uplifting tune's title is simply "Christmas Time" (12/29/06).
He's the bard. The master. The poet. Yet for some reason, Bob Dylan's Christmas album wasn't greeted as an instant classic. Maybe if he would have stopped at the wonderfully weird "Must Be Santa", critics would have been more kind.
It hasn't been uncommon to hear Phish tease "Little Drummer Boy" in some way from the 80's to the present day.  Here's a fully jammed out version from Star Lake '97. Christmas In July.
Brooklyn-based Yarn is a band I'm grateful to have discovered this year.  Though Americana leaning, there is also a bit of jamband influence in what they do -- you may even detect a Dead-ish hint in this version of "Santa Claus Is Coming To Town". (12/16/10)
It's not all peace and goodwill this time of year.  North Mississippi Allstars sometimes find themselves spending "Christmas In Jail". (6/25/99)
The word genius gets tossed around a lot in musical circles. In the case of Bela Fleck & The Flecktones, it's almost an understatement.  In this ride through the "12 Days of Christmas", they try out 12 time signatures and 12 keys, even throw on some Tuvan throat singing for good measure.  Show offs.
At last, a song from the elf's point of view. Oh... you say Drive By Trucker's holiday offering is about the little guy paying a booty call to Mrs C. while the big man is out on deliver?  Makes sense.  "Mrs. Claus' Kimono" was recorded right here in Chicago on December 30, 2002.
Score another point for the jambands, as Strange Arrangement throws down trademark jazz-funk heat which winds it's way into a ripping take on "Carol of the Bells" from a Chicago show at The Abbey in December 2010 (12/18).
Yes, the moe. side project Ha Ha The Moose has their own Christmas tune. Yes, it's sophomoric as shit. But, where else can you find the neologic adverb "circle-jerkily" used quite as effectively? (12/6/08)
File this one under "F" for Fun. Northeast funk and soul band Juicebox let us know that kiddies aren't the only ones Santa wants on his lap this winter, "Santa Claus Wants Some Lovin'". (12/23/05)
For good measure, I placed Mr Blotto's 2009 XRT holiday tune adjacent  moe'.s groove as it is built around a slinky "Sand"-like riff.  He's fat, got a beard, works one day a year (damn skippy) "Santa's A Hippie".
A "First Tube"- like riff kicks off moe.'s jamming version of "Oh Hanukah" proving that classic holiday melodies aren't just for goyim.  Wait, did I spell that correctly? (11/25/05).
Here's a rare treat.  Jerry Garcia and Phil Lesh helping out Leon Russell at a pre-Thanksgiving gig at Austin's legendary Threadgills in 1972. The tune is Leon's "Slipping Into Christmas".
Wouldn't feel right publishing this list without one long, slow funky jam.  That's exactly what Garaj Mahal delivers on this wild, occasionally vocal, take on "God Rest Ye Merry Gentlemen".
Picker extraordinnaire Larry Keel blazes through this Lester Flatt tune with his band. The recording of "Christmas Times A Comin'" is from December 13, 1997.
Lest the "reason for the season" be forgotten, I'm including The Band's overtly religious song about the "little baby boy who brought us all such joy".  It disappoints me that I don't hear "Christmas Must Be Tonight" constantly in malls and all-Chrismas radio between Thanksgiving and New Year's.  Whatever your faith,  I'm sure you'll agree that a song this good should be revered as a universal holiday classic.
I'm happy to able to feature a song on the 2011 holiday mix  from what could be my band of the year. Dawes recorded Vince Guaraldi's jazzy "Christmas Tine Is Here" for AV Undercover and expressed excitement about getting into the "weird chords" in an accompanying interview. Win - win.
It doesn't get more classic than Bing Crosby's "I'll Be Home for Christmas", performed here by My Morning Jacket with help from the members of Band of Horses on vocals.  They made a show of it at a Madison Square Garden co-bill earlier in December, and used this as an encore.