The Barn's Shoe Fest Preview And Conversation With Old Shoe's Matt Robinson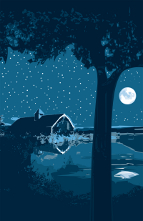 When details started to emerge about Shoe Fest, the first year festival taking place at Stonehouse Park in Earlville, IL on September 9th - 11th, I almost had to pinch myself.
There is no denying the overwhelming amount of musical talent in and around Chicago, and the quality festivals taking place all around the region reflect this.  But the lineup for Shoe Fest seemed to hone in on a sliver of Chicago-based talent that falls right into The Barn's sweet spot.  With a lineup constructed with a finely tuned blend of rock, folk, bluegrass and funk, peppered with bands that take improvisation seriously, it's great to see the stars of our local scene get a little boost from some national acts with that same mindset.
Sporting two stages for music, and 100 acres of idyllic grounds for camping and leisure, Stonehouse Park promises to be an ideal setting for an early fall get together.  Shoe Fest founder Matt Robinson shared some of his perspective on staging a festival "the right way", the scene that allowed a festival like this to take place, and where his band, Old Shoe, fits into it.  Keep reading for some exclusive streams from the band's sophomore album Let Yourself In.
While any festival is a party, Robinson was claims that this event is attempting something a bit more ambitious.  "We wanted to do something different... more rootsy... and build a festival with a sort of integrity and longevity.  We probably left money on the table by shying away from electronic music and DJs.  People love that, and it's legitimate art like any of the Shoe Fest bands make, but we are trying to carve out a different space for us."
Looking up and down the artist roster, it reads like a who's who of the buzz-worthy local bands that are willing to throw down and jam.  In many ways, the festival feels like a culmination of a summer long residency that Old Shoe has maintained at Ace Bar in Chicago.  Each week Old Shoe partners with another local band at their standing Tuesday night gig.  "[The residency] has allowed us to cross pollinate," Robinson explains.  "First, its great to be influenced by all these bands in an artistic way.  But also, our fans get exposed to some other  really good original music.  Some of the bands that we've brought in like [Shoe Fest artists] Fresh Hops and Barefoot Fred have super-passionate fan bases of their own."
These collaborations were just another element in a tight-knit community developing around a shared musical approach.  "Every band would love to be a part of the energy of a scene," Robinson continues.  "I've always been drawn to these:  Dylan and the folkies in New York, the San Francisco psychedelic scene in the sixties.  There's some really good talent in Chicago now -- it's one of the things that motivated me to put on the festival."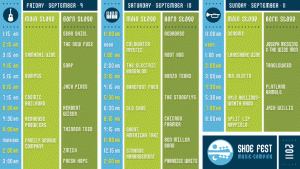 But this festival is not just about the local musicians.  Saturday and Sunday feature performances by Vince Herman's Great American Taxi, Split Lip Rayfield, The Ben Miller Band, and [String Cheese Incident's] Kyle Hollingsworth Band.  Robinson insists that despite the festival's name, "Old Shoe is  not the headliner.  We're not trying to be presumptuous or pretentious by naming the festival after ourselves; it's more like Old Shoe is throwing a party and this is the way we celebrate.  I'd love for us to benefit from the exposure and association from all these acts that we love."
"We weren't initially thinking of going this big.  When we booked the date, we selected it because there wasn't anything else going on that weekend.  As the summer went on, more and more competition got announced and we felt we really had to step up."
Boasting 35 acts in total and other diversions like Disc Golf and swimming, the inaugural event offers festival-goers the opportunity to be a part of something unique.  Robinson is particularly looking forward to Friday's set from Family Groove Company.  "They've been so great about helping get the word out.  The band and their fans will be ready to go for this festival."
The Barn's Best Bets
Friday
Herbert Wiser Band
When last we caught up with HWB, they were featured as a part of our Jambands Play Talking Heads Feature.  We thought so highly of their jazz-infused rock and ability to stretch out, they felt right at home alongside jam titans like Phish, Widespread Panic and Umphrey's McGee.   Check out this this original tune:
[mp3j track="Hebert Wiser Band - Soul Strut@http://www.archive.org/download/hwb2010-08-07.akg214at4041/hwb2010-08-07.akg214at4041.d01t05.mp3"]
Henhouse Prowlers
Last time Henhouse Prowlers was featured on this site, it was as their alter ego, Sexfist, was planning to rage the Phish lots at UIC Pavilion a couple of weeks ago.  It turns out they turned quite a few heads and even busted up a nitrous ring during their performance!  Whatever you call them, they are the pride of Chicago -- demonstrating to the world that Midwesterners can pick with the best.
[mp3j track="Henhouse Prowlers - Locomotive Breath@http://www.archive.org/download/hhp2011-07-29.flac16/hhp2010-07-29t08.mp3"]
Saturday
Electric Boogaloo
This is a young band with some serious chops, used to great effect in tackling some complex, original jazz and funk instrumental pieces.  I'm looking forward to see how they mature.  The sounds of Electric Boogaloo should make for an excellent afternoon festival set.
[mp3j track="Electric Boogaloo - The Cruise@http://www.archive.org/download/boog2011-06-27.flac/boog2011-06-27t05.mp3"]
Old Shoe
I was floored when I heard Let Yourself In, the latest release from the festival's hosts.  The maturity of the songwriting and the clarity recording evoked classic albums of the past.  I was hearing a lot of CSNY in my favorite track "Dusty Moonless Eye", but Robinson suggested "we were going for a more Pink Floyd thing."  Not bad company to be in regardless.   Expect some nice hooks and some folk-rock flavor in their set.
Stream some exclusive tracks from the new album!
[mp3j track="Old Shoe - Take That Road@http://www.thebarnpresents.net/music/oldshoe/letyourselfin/TakeThatRoad.mp3"]
[mp3j track="Old Shoe - Dusty Moonless Eye@http://www.thebarnpresents.net/music/oldshoe/letyourselfin/DustyMoonlessEye.mp3"]
Great American Taxi
Vince Herman brings the party where ever he goes.  I remember Leftover Salmon absolutely owning Town Park when I saw them at the Telluride Bluegrass Festival over a decade ago.  He brings the same energy and spirit of improvisation with his latest project, serving up a mix of bluegrass, rock and zydeco in equal portions with his bandmates in GAT. "FESSTIVALLL!!!"
[mp3j track="Great American Taxi - Straw Man@http://www.archive.org/download/GAT2011-08-26/GAT2011-08-26t05.mp3"]
Strange Arrangement
Yes, the guys in Strange Arrangement hail from the the same town as The Barn (La Grange, IL).  No, we're not childhood chums.  However, I do believe that music fans coast-to-coast will be catching on to what these hometown heroes bring, and fast.  The infectious songs on their latest release, Polygraph, get reliably consistent monster jams inserted in the live setting and they're always game for some unexpected, but welcome, cover songs (LCD Soundsystem!?!).  Expect to hear more about this great band from The Barn soon.
[mp3j track="Strange Arrangement - Good Ideas@http://www.archive.org/download/sa2010-12-18/sa2010-12-18d1t1.mp3"]
Sunday
Mr. Blotto
Blotto was the first band we ever worked with at The Barn and we still feel great about the music these guys are making.  And why not?  The brothers Bolger have been doing what they do for almost 20 years, delivering Dead-infused jams and rock-drenched originals to some of the best, most dedicated fans in Chicago.   Fresh from covering Aerosmith's Toys In The Attic at Blottopia, their 12th annual summer camping festival, always ready to deliver a one-of-a-kind set.
[mp3j track="Mr. Blotto - Clampdown World@http://www.archive.org/download/mrb2011-08-26.Matrix.flac/mrb2011-08-26d01t05.mp3"]
Split Lip Rayfield
Another band that brings years of festival experience, SLR offer the type of bluegrass with enough attitude to evoke rock and punk.  This group's raw energy will be in demand while closing the festival on Sunday night.   Here's a track that feature's Yonder Mountain String Band's Jeff Austin on mandolin.
[mp3j track="Split Lip Rayfield - Crazy@http://www.archive.org/download/slr2011-08-17.mbho/slr2011-08-07mbhot12.mp3"]