Warren (and Symphony) Plays Jerry @ Chicago Theater 5/20/14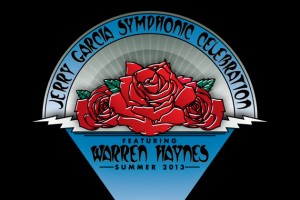 Rock coupled with the symphony has always made for a curious marriage.  This is particularly true for improvisational music, which doesn't lend itself to arrangements for dozens of musicians.
For jam fans in Chicago (and really most of the Midwest) we haven't had too much evidence to sway us either way.  We've had to sit idly watching first Trey plot symphony dates in other unlikely cities year after year.  Bobby and Phil have brought symphonic Dead stuff to the Bay Area, but not so much on the road.  Then, Warren Haynes began to front the Jerry Garcia Symphonic Celebration in cities coast to coast in 2013… but still the Midwest was left out.
We'll finally get our chance over three nights this may, when Warren extends his tour to some of the best venues in the area.  Even better, it looks like he'll be playing Jerry's Wolf guitar at all of these gigs!
May 20th, 2014
Chicago Theatre - Chicago, IL
The epicenter of classy Chicago shows -- perfect place to marry symphony and jams in Chicago.
May 21st, 2014
Riverside Theatre - Milwaukee, WI
A gem of a small theater that doesn't scream symphony -- should be a great one.
May 22nd, 2014
The Fabulous Fox Theatre - St. Louis - St. Louis, MO
A hidden jewel in the Midwest -- road trip worthy.
To celebrate, we're doing a throwback to our 2011 series that featured downloads and streams of the best orchestra backed rock that we could find.
The Mystery of the Grateful Dead Symphony
Recorded In Chicago - My Morning Jacket and the CSO at Lollapolooza
Trey Anastasio with the Baltimore Symphony
Medeski Martin & Wood + 25 piece orchestra in Holmdel
Elton John - Philharmonica Freedom
Cheap Trick & Friends Do The Beatles
Symphony Sunday - Doors Edition
And let's not forget Warren himself...