What Would It Take To Make A Chicago Red Rocks?
A Creative Way To Address Chicago's "Venue Problem"
Of course there's only one Red Rocks (and one Gorge for that matter) and every music fan should make it a priority to visit these musical Meccas.
But that doesn't mean that the mystique of a one-of-a-kind destination venue can only be captured amidst the foothills of the Rockies or a breathtaking river canyon.
I've been a huge booster of Chicago and its music scene, but I've never been hestant to acknowledge:  we've got a venue problem, particularly during summer months.
Once upon a time, before its radical and ugly transformation, I would have nominated the venue at Northerly Island as a something I could hold up as a potential peer of those great perfomances spaces.
But I'm going to turn my attention to another candidate.  No, it doesn't have the natural beauty, wonder and majesty of Red Rocks, but it's location, tucked away in a park amidst the world's most picaresque, towering skyscrapers and a stone's throw from the iconic Cloud Gate (aka The Bean), makes up for what nature doesn't provide.
I'm speaking, of course, about the Jay Pritzker Pavilion at Millennium Park.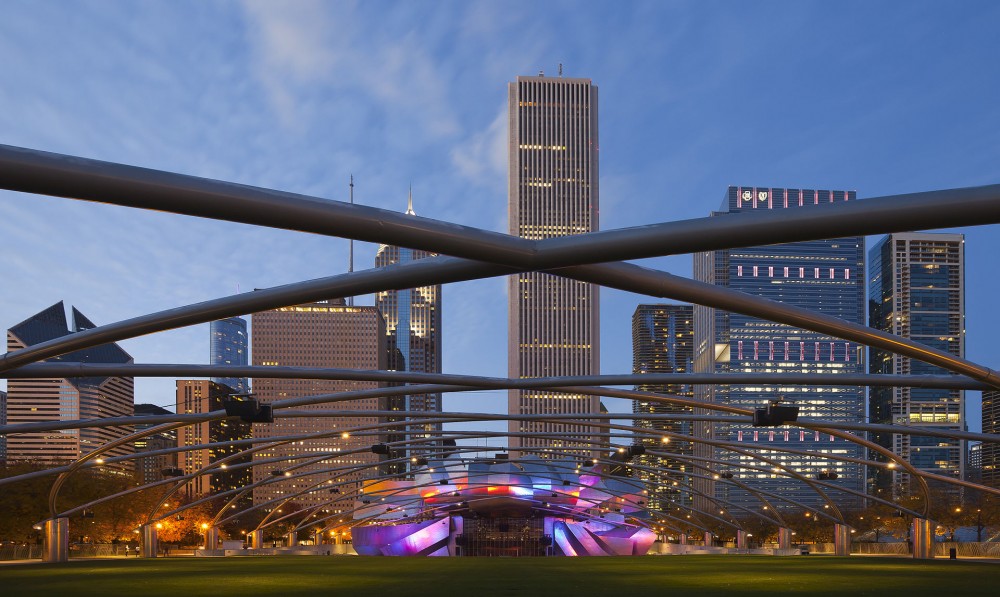 Its Frank Gehry architectural design makes it unlike any other venue in the world.  The bandshell is actually classified as a "work of art", not a building, by the City Of Chicago.  The Great Lawn features a signature trellis, which holds a state-of-the-art audio system designed to replicate the acoustic properties of indoor venues.
It also has some other huge perks, that even the most revered destination venues do not. 
It has been recognized publicly as one of the most accessible venues in the world for the disabled.
It's extremely accessible by public transportation and (if you're willing to pay) parking.  It's a short walk from many hotels, restaurants and places of business in Chicago's Loop.  It can easily play a role as yet another attraction into an already packed day of work and / or play.
But it also has a few challenges.
The first is the good kind of challenge.  As part of the Chicago Park District, the stage is home to a program of free shows, festivals, movies, and other activities throughout the year.  It is open as a public park on days when events are not held there.
In fact, shows with paid attendance have been the exception rather than the norm.  Part of that is legacy set about from the beginnings of Grant Park, the larger parcel on which it is established, set aside 180 years ago to be "forever open, clear and free".
And yet paid shows do occur there.  Starting in 2005 with Tori Amos and featuring acts such as Wilco and My Morning jacket in seasons since then, these shows provide additional revenue and spectucular setting for the right kind of music.  While the free shows are actually programmed with an adventurous lineup of jazz, world, indie rock that might otherwise gig in a club, the paid admission gigs bring the big concert experience -- the chance to be swept up in a grand performance, with thousands hanging on every note.
With Wilco coming up again this weekend, I wonder if the city might manage to a few more if thsese per season, while still allowing for the variety of free events as well.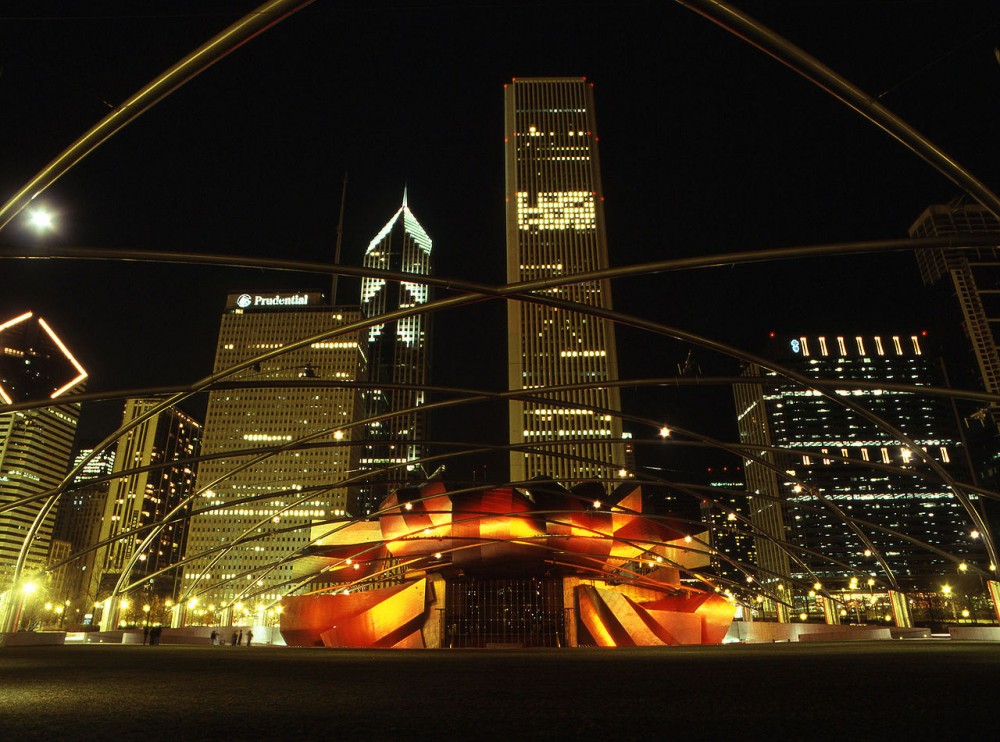 Let's look at highlights from the Red Rocks 2016 season.  I argue that it's not just the eye-popping locale and scenery, but also the unique lineups they are able to book in that location because of it, that make it such a special place – a place that people are willing to travel for.  Tell me if any of these would be unwelcome as destination events in the heart of Chicago.
JJ Grey & Mofro + The Infamous Stringdusters + Fruition
My Morning Jacket + Barr Brothers + Fruit Bats
Bob Dylan + Mavis Staples
Widespread Panic
Umphrey's McGee + Dweezil Zappa + JRAD
Galactic + Boombox + Pimps Of Joytime
String Cheese Incident + Kamasi Washington + TAUK + Hot Rize
The Motet + Medeski Martin & Wood + Vulfpeck
Greensky Bluegrass + Leftover Salmon
The National + Real Estate
LCD Soundsystem
Jerry Garcia Symphonic Celebration featuring Warren Haynes
Tedeschi Trucks Band + Los Lobos + North Mississippi Allstars
Trampled By Turtles + Lord Huron
Ryan Adams + Kurt Vile & The Violators
Yonder Mountain String Band + Drive-By Truckers + Preservation Hall Jazz Band
Gov't Mule + moe. + Blackberry Smoke
Tame Impala + Mac Demarco
Jason Isbell + Lucero
Railroad Earth + The Chris Robinson Brotherhood + Anders Osborne
The majority of those acts didn't have a single Chicago summer play, or if they did, were in the suburbs or as part a festival lineup.  Given its unique situation, Pritzker Pavilion couldn't possibly book them all, but even if you just choose 25% of them, you've got an outstanding lineup.  You just need the right political will and revenue incentive.
All that said, there is one other challenge based on the venue's construction.  Although the Great Lawn has wonderful sound no matter where you sit, it is largely flat, providing an extremely limited view for folks not ticketed for the seated area.

It can possibly be remedied with additional screens, or even giving the lawn a slight grade.  This type of landscape sculpting has been done in other parts of the park, including Maggie Daley park, which is just over the pedestrian walkway from the venue.  It contains rolling hills and  all sorts of contours to give it more character.
Yes, it would require an investment, but all the better to maximize the value of one of the city's greatest assets.  
Tourism is extremely important to the city.  So is revenue.
No, you can't duplicate the can-you-believe-this-is-here of Red Rocks.  But with a few tweaks, perhaps we could have something similar.
Photos via wikipedia. Diego Delso, G patkar