Where To "Group Watch" the GD50 Chicago Webcasts
Many people are going to Soldier Field for the Dead50 shows in July.  Given the demand for tickets and the insane amount of activity going on in the city that weekend, many more people will in Chicago and not inside the shows.
Sure, anybody with an Internet connection and a few bucks will be able to stream the shows via webcast -- but there's something about the buzz of the crowd, the idea of being a part of something huge, larger than life, that is generating much of the heat surrounding this event.
If you want to get together with your friends, or just like-minded strangers, for a viewing party and still want to be close the epi-center (maybe even hang out in the lot or check out some other local events during the day), you've got a few options ranging from ingenious to antiseptic.
We'll update this post with more that will undoubtably emerge.
Leftover Salmon Streaming Party @ Park West -- For Salmon fans (who already celebrated a milestone in Chicago recently), this is more than just a consolation prize... it can be even more exciting than the main event.  Taking place in the cozy confines of the Park West in Lincoln Park, the show will be streamed in addition to Acoustic (during set break) and Electric (post-show) sets by Leftover Salmon.  Not cool enough?  On Friday, July 3rd, the acoustic set will pay tribute to Old & In The Way, on Saturday the 4th, the Garcia Grisman catalog.  Mr. Grisman will be in town that weekend.  Hmmmm.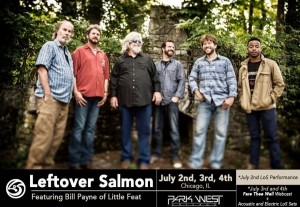 Streaming at the City Winery - Park West is a pretty nice place, but if you're looking to go even more upscale, look no further than the West Loop's City Winery, whose chill atmosphere, house-made wines and beverage will accompany the simulcast ($18, standing).  There is separate ticketed admission to post-shows each night as a part of their "Weir World" series.  We recommend Alex Bleeker & The Freaks on Friday and Railroad Earth on Sunday.  [Update 6/30]  We've got a bunch of tickets to each night to give away.  Click here for details.
FrontLeft-A-Fare - Another event where the live music and simulcast are available for single admission.  This event at the lively RedMoon Theater should be a blast.  Redmoon's mission: "To Transform The Experience Of Our City Through Free Large- Scale Theatrical Events That Promote Community, Creativity, And An Empowered Democracy."  Stu Allen's Mars Hotel, featuring former Chicagoan Murph Murphy (of Citrus and FJB-fame for old-school jambanders like me) will perform post-show.  Rob Barraco, Col. Bruce Hampton, DJ Logic and Will Scarlett are also tagged for appearances.  The intent is to create a psychedelic wonderland with lights, visuals and other oddities planned all day long for the entire weekend.  Sounds fun, I just have to wonder what the hell "FrontLeft-A-Fare" means.
[Update 6/30]  We're giving away a pair of tickets to Sunday's FrontLeft A-fare.  Oh, and we found out what it means, too.  The event is being put on by FrontLeft Productions!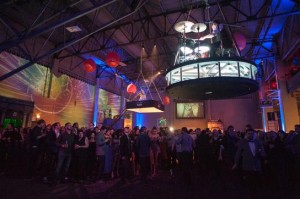 The Abbey - They just announced a FTW stream to be show on a big screen with the venue's sound system in advance of the Grateful Zappa weekend with Roister and many members of FZ's old touring band.
Links Taproom - This Wicker Park establishment has become known for free streams of Phish shows, and they're going to party with the Dead on Dead50 weekend, too.
Some special beers tapped for the occasion (Sweetwater 420 Extra Pale Ale, Tighthead Scarlet>Fire Red Ale, Destihl [your face] Strawberry, among others and a special "link" called Legalize It: Italian Sausage Link topped with Beerinara, Mozzarella, and Fried Pepperoni, finished off with Funyuns.  Damn.
Alive One - One of Lincoln Park's best small live music bars will be streaming Fare Thee Well on Pay Per View all three nights, no cover.
Tonic Room - Saturday only, but they will stream from Soldier Field before moving Groovatron plays late night.  Groovatron is sold out, so non ticket holders will need to boogie after the stream.
Movie Theaters -- If you just have to shut yourself off from a "party" atmosphere, or need to stick close to home or work, Fathom Events will simulcast all three shows from movie theaters.  The two closest to Soldier Field are Showplace ICON at Roosevelt and AMC River East 21.  Those should be a little bit more electric, but there are 12 additional locations in greater Chicagoland and Northwest Indiana to choose from.  See Fathom Events for more info.
[Update 5/18] Martyrs' had already announced a three night Terrapin Flyer run for late night, so it's only natural that they've added a streaming party to the mix as well.  $30 is admission to the whole event, and will feature appearances by Melvin Seals, Mark Karan, Rob Barraco, Wavy Dave, Pat Mallinger and more artists to be announced.  [Update 6/30]  We've got tickets to these, too.  Click here to enter.
[Update 6/30] If you're in the far Western burbs, The Aracada Theater is live streaming Friday night's show on a 40 foot HD screen with food and drink specials.  $20 General Admission.
The issue I see with each of these options is that they all take place indoors, not exactly the place to be on a steamy July night.  The first one to figure out away to do a drive-in style outdoor simulcast in the city may end up being the big winner.  The venue on Northerly Island, on a landfill just east of Soldier seems like a no-brainer for this.  So much activity going on in the city, why not add something there so people can meet up in the parking lots and parks surrounding Soldier Field and then head off to an outdoor viewing where they can buy $12 Bud Lights?  C'mon people... there's money to be made!
[Update 5/11] The Chicago Area Prankster Camping event, "The Acoustic Acid Test", has promised an outdoor screening of all three Fare Thee Well shows.  Yes, it's outdoor, but it takes place in Yorkville, IL... over an hour by car from downtown Chicago (more details here).  We still await news of an outdoor screening in the city. [Update 6/30] Ummmm... this one is not happening.
Got any other tips for Fare Thee Well "Group Watch" events?  Drop us a line at info @ tomorrowsverse.com and we'll add them here and on our GD50 Chicago Event Page.