Setlist / Video / Recap | Foo Fighters @ Wrigley Field 8/29/15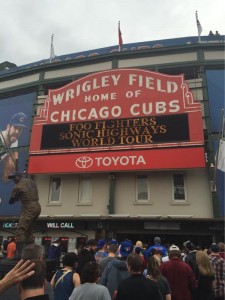 Via Foo Fighters' Twitter
By: Alex Wood
Foo Fighters performed at a sold-out Wrigley Field on Saturday, delivering a massive set list combining covers, newer material and classics.
With aftermarket tickets starting around $200, it's safe to say that Chicago was excited for the band's return. And with a carefully designed 24-song set list, Dave Grohl and his band seemed equally ecstatic to perform in the historic stadium.
The show opened with a run of Foo Fighters classics, creating a high energy off the bat. The timeless "Everlong" began the show, giving way to "Monkey Wrench," another hard rocker from The Colour And The Shape. "Learn To Fly," amongst the band's biggest hits, followed next.
Despite having broken his leg earlier this year, Grohl performed from a moving throne, complete with lights and guitar necks built in.
"Something From Nothing," the Sonic Highways track recorded in and about Chicago, featured Cheap Trick's Rick Nielsen on guitar.
The show represented every era of the band's career, surprisingly featuring only three songs from Sonic Highways in total.
The band acknowledged many of their eclectic influences throughout the show. An extended introduction of band members featured covers of Van Halen, Yes and Alice Cooper songs, while they covered the Rolling Stones' "Miss You" in full later in the set.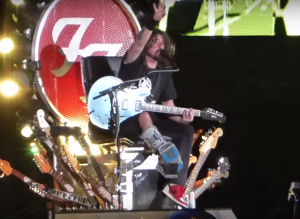 After connecting three strong songs, "My Hero," "Outside" and "All My Life," the band sang "Happy Birthday" in dedication to Grohl's mother and cousin, whom the singer brought out to stage with a birthday cake and all.
The band concluded their set by combining older songs with new, sandwiching classics "Breakout" and "This Is A Call" between "Arlandria" (from 2011's Wasting Light) and closer "Best Of You" (from 2005's In Your Honor).
This last run, if not the full set list, easily represents the way in which Foo Fighters have maintained a high quality and energy within their songwriting, even channeled through the constraints of alternative rock.
Between the vigorous Foo Fighters set list and classic Chicago bands Naked Raygun, Urge Overkill and Cheap Trick opening, the musicians far surpassed the hype surrounding the long sold-out date, the performance acting as a celebration of rock music in the Windy City.
"Everlong:"
"My Hero:"
"This Is A Call:"
Setlist:
Everlong
Monkey Wrench
Learn To Fly
Something From nothing (with Rick Nielsen)
The Pretender
Big Me
Congregation
Walk
Van Halen covers (snippets during band introduction)
Roundabout (Yes cover, snippet during band introduction)
School's Out (Alice Cooper cover, snippet during band introduction)
Cold Day In The Sun
My Hero
Outside
All My Life
Happy Birthday
Times Like These
These Days
Miss You (Rolling Stones cover)
White Limo
Arlandria
Breakout
This Is A Call
Best Of You