The Story Of Bonzo Terks - Stream And Download Two Exclusive Tracks
One of the best parts of running a blog like The Barn Presents is that occasionally you get turned on to music in some of the most interesting ways.  A few months ago when Danny Van Deurm left a short message on The Barn's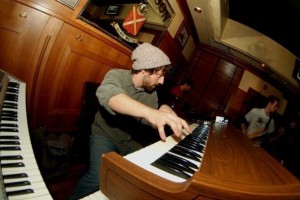 facebook wall, advising me to check out his band, Bonzo Terks, I had never even heard of them.
No surprise, I learned later that Bonzo Terks is a young band, starting in 2009 DeKalb.  But, I was at a serendipitous moment of silence, I needed something to listen to at the exact moment I read that message and since I like to stay on top of local bands, I queued up a show from archive.org as some background music.
I soon learned that this was no background music.
Bonzo Terks makes jazz that straddles the line between arty & challenging and accessible & danceable.  Organ driven and melodic, but covering a ton of improvisational ground within the confines of a single song.  This was truly adventurous music and I felt compelled to use the blog to get the word out.
[Keyboardist] Danny was excited to share some his thoughts on the band, as well as offer two exclusive Bonzo Terks tracks for streaming and download here on the site.
The Barn: You offer a pretty cheeky account of the band's "conception" online.  What were the circumstance of the band members meeting and deciding to form band?
A couple of really close friends were going to school out at NIU and rented a big college house with like 6 people. The place was perfect for throwing really large, wild parties. [Drummer]Dan[Clark] and I had been in a band that had broken up that used to play these parties. My friends had once again asked me to provide entertainment, only I didn't really have a band. Putting together a group to play with at a party is a really great way to experiment with different people. I had a drummer but needed someone to lock in the rhythm section.
[Bass player] Luc Parcell and I had just met, oddly enough, in Dekalb at the House Cafe a few months before.  I was there to see Family Groove Company.  I had missed the opener whom I later found out Luc played bass with.  Anyways, that night was a little weird because it was announced shortly before FGC was to hit that their bassist had fallen violently ill. So, they had asked Luc to sit in with them on some old funk covers. Eventually their bassist [Janis Wallin] sucked it up and came out for the last half of their set. I approached Luc when he was in the crowd and we talked about maybe making music together. We kept in touch and when it came to this house party thing I called him up and he was all about it.
Luc had never even met Dan before this night, let alone played with him. It was a risk, but I had enough confidence in both of them as individuals and as improvisers. We set up and just played...for 3 hours, took a break and then did it again. The party was packed and they loved it! A lot of really great musical things happened that night, things I wanted to nurture and help grow. We all agreed that we should start something.
How did it grow from there?
We got together a few times when we could and started playing and playing and playing. We recorded an entirely improvised 'demo' in the attic of my Pilsen apartment in February of 2010. This was later released as At Tick's which can be found on our bandcamp site.  It was entirely improvised.  Naturally our playing together developed and things started to snowball.
[mp3t track="Bonzo Terks - Viva Pilsen@http://www.thebarnpresents.net/music/bonzo/VIVAPILSEN.mp3" play="Stream!" stop="Pause!"]Download
That's the story of the trio... but you're a quartet now?
I have always been a huge fan of jazz quartets. They have an immense potential for possibilities. Just listen to Wayne Shorter's new quartet. That is some of the most mind blowing, heavy, shit out there. That band is unstoppable. Naturally as a trio, especially a piano/organ trio, the best thing about them is their rhythmic interplay and connected-ness as a unit. That is to say, the music cohesively moves through all of them together, as one entity. Bonzo Terks was developing that at an alarming rate. But to go deeper, further and expand that one-ness and unity and make the sound bigger, fuller, we needed another member.
Bonzo had been a trio for roughly 2 years. I had started to experiment with another group called Church Friends in more of the avant-garde and free jazz realm and I needed a saxophone player for that group. Not just any player, I wanted someone who wasn't afraid to play 'out,' as it were. At the time I was still an undergrad student at Columbia College Chicago. They have a music school so I thought I''d use my 'resources' this lovely private college provides.  I posted a "WANTED" flyer in the music building and a few other buildings.
Enter Keenan Foley. Keenan answered my flyer via email. He told me he saw it on the learning studio bulletin  board outside of where he works. We got together and played just as a duo and then later with Church Friends. Eventually Bonzo had Keenan sit in with us at a gig at The Store. It was for the Bonzo Big Band, basically the trio plus 3 horns.
Things just started to progress naturally and we decided to keep Keenan on board full time. We even made a faux story about how he joined the band.  It's been really great developing new tunes and rearranging old ones for the new sound.
Where did the name Bonzo Terks come from?
Well after the trio was formed we had to have a name. We threw some things around, made lists, looked at things in plain view for inspiration, etc. One day I sent out texts to Dan and Luc and one of them said Bonzo Terks. I got quick replies to that one saying they liked it. I wrote back "it is done" and that was that. Our name doesn't really mean anything. We wanted to just pick something that didn't suck but also didn't really matter. It's just a label to slap on our sound, a label (I hope) people are starting to become familiar with...
Any thoughts on the direction of the band going forward.  What kind of goals do you have as group?
We kind of took a break from the public early this year for about 2 months. We took this time to workshop some tunes and write new ones. We're starting to gel really well with Keenan and its proving to be a really good thing for our sound. The 'first show back' we played was at Jerry's Sandwiches in Wicker Park. It was one of my favorite sets we've played. There was just some fire in our playing and we sounded really tight. I guess it was because we'd been practicing a lot -- go figure! And people came out to see us considering all the other things that were happening that night. It felt really good to look out and see a packed room with a really attentive audience.
Our immediate goal right now is to just get people to pay attention to us. People don't necessarily need to understand or 'get it.' It's like when people go to the MCA downtown and see the works of Jackson Pollock. They sit there scratching their heads like 'Why is this so special? Anyone can do that. Even I can do that! Why is this in a museum?'  They have been conditioned to have an opinion on something immediately. They have to formulate some sort of stance on whether or not they like it or if its okay to like it.  Most people do not understand abstraction in general. They don't get the fact that to appreciate abstraction they've got to be able to turn off their thought. At the very least just put it in the background. People are unable to let the abstraction affect their emotions directly. It becomes filtered through interpretations, which is a defense mechanism. It's a way to deal with fears. Fears like "Well, if I admit that I don't understand this, I'll look unsophisticated."
[mp3t track="Bonzo Terks - Kid Bongos@http://www.thebarnpresents.net/music/bonzo/KIDBONGOS.mp3" play="Stream!" stop="Pause!"] Download

We've been reviewed a few times. They weren't flattering. We also understand that the particular programming for these evenings didn't really fit us well. We're the weird jazz band playing with electro-jammers and funk bands that rap. I'd scratch my head too if was supposed to review the night!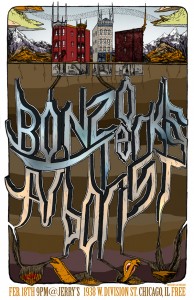 Lately we've been trying really hard to curate our own shows whenever possible. I'm a big believer that programming is the key to successful shows. Everything just flows more naturally.
That being said, we like what we're doing and we aren't going to change it. We made a decision a long time ago to never compromise our music for the sake of 'people liking it.' This is how we express ourselves in the most cathartic way. We aren't trying to win any popularity contests. We're just being real.
Are there other bands in and around Chicago that you feel a particular kinship with?

Lately, yes.  The guys from now defunct Sam Sinclair Trio have always had a spot in my heart. Brendan McAlinden and Colin O'Malley play in my group Church Friends. Brendan and Dan Cantone play with Luc's funk band Nipple while Keenan toots his horn with all of us. I've been especially feeling some love from the dudes in Shapes & Colors. Matt Rezetko, Jeremy Williams and I also have some things cooking up with a trio called TrillionAIR. Afternoon Moon, while not from Chicago, has been helping us out with printing shirts (designed by Pat Marek) and expanding our audience to the wonderful people of Ottawa, IL, too.
Why do you think the scene is developing like this in Chicago?
Basically, Chicago has a pretty unique scene for music. I want nothing more than to build up camaraderie amongst us all in 'the scene.' It's only going to help us grow in the long run and having a lot of friends is fun. Especially musical friends. There is going to be a lot of good stuff happening in and around Chicago this summer and forever more.  Shout out to all the bands doin' the do, there are too many great ones to name!
Given your involvement in a number of different musical projects, how do you decide how which ideas get filtered to which project?
A magician never tells you how he performs his feats.