Visual Puzzles & Answers: The Viktor Hertz Rock Pictograms for Beatles, Stones, Dylan and More
While the infographics I often feature on this site intend to make data easier to consume by employing clever visuals, this set of graphics proves that it's equally fun to use visuals to obscure meaning.
Designer Victor Hertz has created some rock music pictograms that do just that for the songs of David Bowie, Bob Dylan, The Rolling Stones, Iggy Pop, The Beatles, Bruce Springsteen, Johnny Cash and Elvis Presley.  What emerged is a bit of a puzzle -- and the "aha" moment of realization of one of the more difficult is extremely satisfying.  Five months in the making, he describes the effort as his "most ambitious, and maybe also the best, personal work I've done so far." You can purchase these as posters or simply make a donation to fund their printing.  I definitely encourage the support of this incredible work.
Additionally, I invite you to join me in trying to decipher the pictograms.  It takes a combination of musical knowledge and "outside-the-box" thinking.  As I publish this for the first time, I believe I have identified 75 of the 234 songs depicted across the eight graphics. I have also confirmed my knowledge of the Beatles (20 songs identified) and come to the realization that I have a huge gap in my music knowledge as it pertains to Iggy Pop (0).
I'm interested in seeing how well The Barn community can do in solving these riddles.  Check the answer page for my attempt at solving (I fully admit, some may be incorrect).  Feel free to correct me or add additional answers in the comments below, on our facebook page or on twitter.  I'll update this post occasionally with any new solutions that I get from the crowd.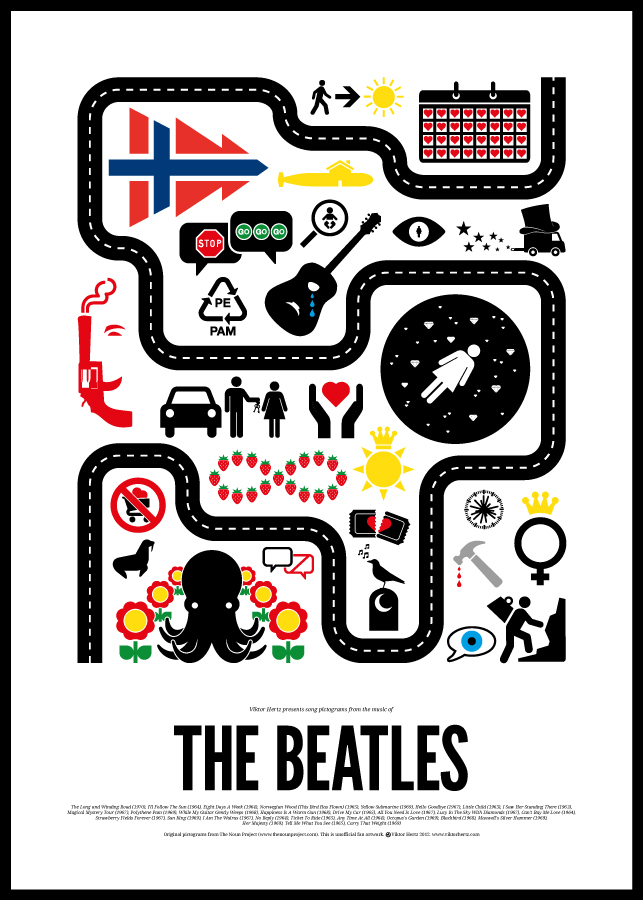 I tried to list these answers as close to top-to-bottom as they appear on the graphics.  If you have an addition or correction, please leave in the comments below, on our facebook page, on twitter, or email me at info@tomorrowsverse.com.  Or feel free to just tell us how you did.
[update 8/8/12... added the first round of reader suggestions in red]
The Beatles
The Long & Winding Road
8 Days A Week
Here Comes The Sun - I'll Follow The Sun
Norwegian Wood
Yellow Submarine
Hello Goodbye
Baby It's You - Little Child (?)
While My Guitar Gently Weeps
Magical Mystery Tour
Happiness Is A Warm Gun
Polythene Pam
Lucy In The Sky With Diamonds
Drive My Car
Strawberry Fields Forever
Sun King
Ticket To Ride
Maxwell's Silver Hammer
Her Majesty
Blackbird
Can't Buy Me Love
Octopus' Garden
Do You Want To Know A Secret / No Reply (?)
I Am The Walrus
Carry that Weight
Bob Dylan
Mr Tambourine Man
TV Talkin' Song
Knocking On Heaven's Door
Man Of Peace
Country Pie
Ain't Talking
In The Summertime
Two Soliders
Got Blood In My Eyes For You
Don't Think Twice, It's Alright
Wheel's On Fire
Diamond Joe
Buckets of Rain
Sitting On Top Of The World
Ballad In Plain D
Black Crow Blues
Thunder On The Mountain
Moonlight
Standing In The Doorway
Shot Of Love (that's a silhouette of a cylinder to a revolver)
The Man In Me
Pressing On
Father Of Night
My Back Pages
Had A Dream About You Baby
Seven Days
Ballad Of A Thin Man
Lovesick
Dead Man, Dead Man
Bruce Springsteen
Streets of Fire
Hungry Heart
Shackled & Drawn
Born In The USA
Roll Of The Dice
Fade Away
Candy's Room
Tunnel Of Love
Queen Of The Supermarket
Growing Up
I'm On Fire
Born To Run
Drove All Night
57 Channels & Nothing's On
Factory
Thunder Road
The River
David Bowie
China Girl
The Man Who Sold The World
Young Americans
Rock N Roll Suicide
Width Of A Circle
Johnny Cash
Tear Stained Letter
New Moon Over Jamaica
Folsom Prions Blues
I Walk The Line
Ring Of Fire
Wednesday Car
The Bug That Tried to Crawl Around The World
Rolling Stones
Paint It Black
Hang Fire
Far Away Eyes
King Bee
Monkey Man
Little Red Rooster
Jumping Jack Flash
Ruby Tuesday
Get Off My Cloud
Tumbling Dice
Shattered
Dead Flowers
I Can't Get No Satisfaction
As Tears Go By
Elvis Presley
Suspicious Minds
A Little Less Conversation
Blue Hawaii
Blue Suede Shoes
Burning Love
Blue Moon
Stop Look and Listen
Teddy Bear
Long Black Limousine