Millennium Park Announces Free Summer Concert Series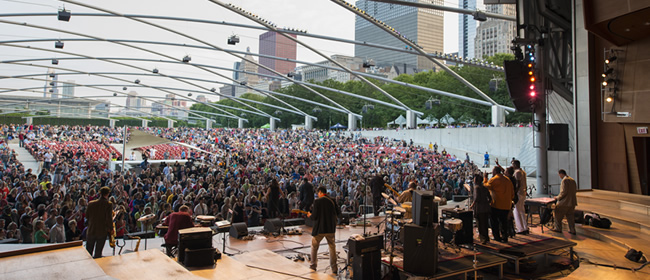 Millennium Park's Summer Concert Series has become a beloved tradition for Chicago summers, offering a wide variety of talented musicians performing free concerts throughout June, July and August. Concertgoers can bring their own food and alcohol and relax on Pritzker Pavilion's lawn, beneath one of the city's best sound systems.
This year's lineup is eclectic but noteworthy, featuring local acts like The Sea And Cake, Whitney and NE-HI, esteemed folk-rock songwriter Aimee Mann, vintage reggae act The Kingston All-Stars, jazz from English duo Sons of Kemet and much more.
Check out the full list of shows below and get even more excited for the warm weather to come.
Monday, June 18 – Jose James Tribue To Bill Withers & Kahil El'Zabar Ethnic Heritage Ensemble
Thursday, June 21 – The Aces & The New Respects
Thursday, June 28 – Sons of Kemet & Melissa Laveaux
Thursday, July 19 – Anoushka Shankar & Hollie Cook
Monday, July 23 – Willie Colon & Canalon de Timbiqui
Thursday, July 26 – The Kingston All-Stars featuring Sister Nancy & Funkadesi
Monday, July 30 – Aimee Mann & This Is The Kit
Monday, August 6 – Bahamas
Sunday, August 12 – Whitney & NE-HI
Thursday, August 16 – The Sea And Cake & Moonrise Nation