Dead Is Jazz: The Grateful Dead's Greatest Jazz Collaborations
Guest Post by Paul Abella.  Paul is a musician, radio host, pundit and early supporter of The Barn Presents.  As a jazz guy who actively embraces and celebrates jambands like Grateful Dead and Phish, and even champions jammers on our local scene, his sensibilities are a natural fit for the site.  We recently published Paul's view of the local jazz scene and close out Jazz Week with this thoughtful post on the Grateful Dead's jazz roots and collaborations. 
NOTE: You may want to jump to the end first… We've put together two incredible playlists: recommended albums (via Spotify) and Grateful Dead highlights (stream or download) to accompany this piece.  Queue them up and dig in.
Ask 20 people what they think of when they think of The Grateful Dead, and you're likely to get 20 answers.
Folks will be quick to chime in about Jerry Garcia's folk and bluegrass credentials, or their two country rock masterpieces, Workingman's Dead and American Beauty.  More likely, they'll get lazily called a jam band.  Rarely will anyone talk about the Dead's jazz roots.  But, they're most certainly there.
Django Reinhardt was an early influence on Jerry's playing.  Phil Lesh, coming from a background in classical trumpet, was hip to Stan Kenton, amongst other west coast jazz heroes.  Bob Weir claimed John Coltrane's pianist, McCoy Tyner, as an influence on his rhythm guitar playing.  And Billy Kreutzmann's traditional grip gives his jazz background away in an instant. Surely, their mid-70's output, especially Wake of the Flood and Blues For Allah employ more than a hint of jazz influence.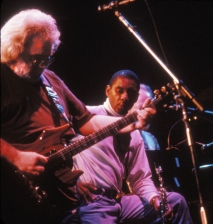 So, for a Deadhead looking to expand their horizons, where should you look?  Well, surely, classic albums like Miles Davis' Kind of Blue and In A Silent Way, or John Coltrane's A Love Supreme would be great places to start that will give you all sorts of insight into the Dead's take on improvisation.  But a quick investigation of the jazz artists that played with The Grateful Dead throughout their 30 year career (and beyond) can shed even more light on how jazz, in different shapes and forms, was never far from the surface of their output.
The first jazz musician almost anybody associates with the Grateful Dead is Branford Marsalis.  Guesting with the band more than any other sax player and captured for immortality on the shimmering, definitive 16+ minute version of "Eyes of the World" on Without A Net.  Over the course of many sit-ins, Branford played beautifully with The Grateful Dead, and that version of "Eyes" is just the tip of the iceberg.  The "Estimated Prophet" from 12/16/94 is amazing, as is the jam on "Terrapin Station" from 12/10/93, or the "Dark Star" from 3/29/90.
Checking out Branford on his own can be daunting.  With a huge catalog that spans straight ahead jazz, classical music and jazz-hip hop fusion (with Buckshot LeFonque), there's certainly a lot to sift through.  Start with The Beautyful Ones Are Not Yet Born, Four MF's Playin' Tunes, or if you want to hear Branford quote the opening lick to Dark Star, Bloomington (a live disc recorded at University of Indiana that is pretty open ended and completely ripping -- the Dead had certainly rubbed off on him a little bit).
From a historic standpoint, the most "important" saxophonist of the bunch to play with the Dead is Ornette Coleman.  Jerry played on Ornette's 1988 album Virgin Beauty, and Jerry and Phil were on record as having drank the kool-aid, so to speak, when it came to Ornette's "harmolodic theory" on improvisation.  Ornette's songwriting method was to write without chord changes, allowing the soloist to do whatever they felt, and in 1959 when his first albums for Atlantic came out, they must have sounded like they came from outer space.
I will say this - of all of the saxophonists that played with the Dead, Ornette's 2nd set appearance with them on 2/23/93 is the one that is the least successful, mostly because he comes to the music on HIS terms, and not The Dead's.  But, then again, that's ALWAYS been Ornette's M.O.  Honestly, you can't go wrong with either of Ornette's discs on Contemporary (Something Else and Tomorrow is the Question), or most of his albums on Atlantic (especially Shape of Jazz to Come, Change of the Century and Ornette on Tenor).  For something a little more aggressive, check out his disc with Pat Metheny, Song X.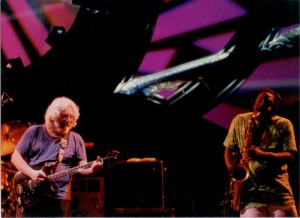 David Murray was originally from Oakland, so it's no surprise that he developed a friendship with Phil Lesh.  Murray ended up playing with the Dead on two occasions - 9/22/93 and 2/26/95 -- and with JGB on 11/12/93.  The difference between Branford's playing and Murray's is like night and day - Branford's got a sweet sound, especially on soprano, and it was rarely less than a perfect foil for Jerry's guitar.  Murray's like a buzzsaw, ripping through the din with howls, dissonance and blistering lines.  And on "Dark Star", when he pulls out the bass clarinet, it's otherworldly.
Much like Murray was the most muscular of the tenor players that played with the Dead, so it is in his recorded output as well.  While he's mellowed considerably over the past 10 years, Murray in his prime is a jaw dropper.  Check out these three to get started: Octet Plays Trane (which is exactly what you think it is -- Murray's mini-big band playing mostly John Coltrane music).  On Dark Star, he takes on a few of The Dead's compositions.  To my ears, only "Shakedown Street", "Estimated Prophet" and "Dark Star" work, but your mileage might certainly vary (if you can find it - it's long out of print).  And finally, Special Quartet is a powerful piece of work.  Pairing Murray with McCoy Tyner and Elvin Jones from John Coltrane's band and Chicago avant-garde bassist Fred Hopkins, these guys dig in throughout and really play like their butts are on the line.
Charles Lloyd, depending on who you ask, either never played with The Dead, played with them once at the Human Be-In in 1967, or played with them numerous times on the west coast in 1967-68.  Either way, Charles was an interesting tenor saxophonist and flautist who was the first of the jazz guys to play places like the Fillmore West back in the halcyon days of the late 60's.  Everything I've read says that The Dead loved Lloyd's group from that time period, and it'd be easy to understand why -- Lloyd was backed up by the legendary Keith Jarrett on piano, Jack DeJohnette on drums Cecil McBee on bass.  And since Lloyd's group was playing the same rooms as The Dead and other like minded bands, and since their outlooks on improvising were basically branches from the same tree, it would make sense that they'd want to play together.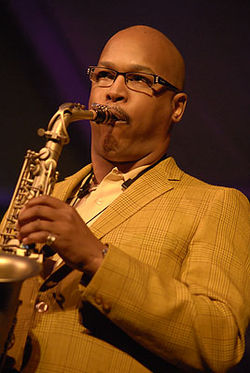 Listening to the Dead's set from the Human Be-In, this jazz geek says that it certainly sounds like Lloyd's flute at work here on "Good Morning Little Schoolgirl".  It's a shame that Charles retired from music for a couple of decades at the beginning of the 70's -- to have heard him jam with the Dead in 1974 or 1978 would have been pure magic.  Check out Charles Lloyd's Quartet in all of its jazz hippie glory with an anthology called Dream Weaver, that collects a nice cross-section of his work for Atlantic in the mid/late 60's.  It feels a little dated, but you can also hear one of jazz's greatest modern pianists (Jarrett) at the beginning of his evolution, one of it's greatest drummers (DeJohnette) and a pretty interesting saxist and flautist in Lloyd.
Greg Osby never played with The Grateful Dead, but he did play with Phil & Friends on a handful of occasions, and he might be my favorite saxophonist on this list.  An alto player with an immediately recognizable tone, Osby is fearless.  He put out albums that were an overt attempt to mix jazz and hip-hop on hip hop's terms at a time in jazz's history when such things were dangerously close to heresy.  He played with the M-Base collective started by Steve Coleman (another favorite of mine) and plays some of the headiest jazz anywhere. Playing with Phil & Friends in the 2000's, he fits right in.  Osby's live albums (Banned in New York and Public) are great places to start with fantastic bands and an exciting approach to improvisation.  For Osby in an acoustic setting, you can't go wrong with St. Louis Shoes, and from that era where Osby was merging hip-hop and jazz, check out 3-D Lifestyles and Man-Talk for Moderns, Vol. X.
Also worth mentioning: a short time member of the Grateful Dead, whose jazz credentials are as deep as his history in pop, rock and bluegrass.  Perhaps the ultimate Grateful Dead jazz summit was on September 10th, 1991, when Marsalis joined Jerry and Bruce Hornsby for a two set affair that featured a most adventurous set list outstanding interplay and improvisation.  Do check out Hornsby's jazz discs, Big Swing Face, and especially Camp Meeting, where he's paired with bassist Christian McBride and drummer Jack DeJohnette.  Though not a must have jazz disc in the sense of the Branford, Murray or Ornette albums, it's certainly a genuinely solid jazz disc worth more than one listen.
If heeded, this list would encompass one of the strangest "get yourself into jazz" styled lists ever created.  But then again, isn't that what being a Deadhead is all about?  Let's face it, someone that would claim "Estimated Prophet", "Eyes of the World", "Playing in the Band" or "Dark Star" amongst their favorite tunes isn't exactly taking the easy way when it comes to music.  And so it is with the Dead's tastes in jazz sparring partners as well.  And, hey, when it gets right down to it, a jazz collection filled with music from Branford Marsalis, David Murray, Ornette Coleman, Charles Lloyd and Greg Osby isn't exactly off to a bad start by any stretch.
Stream Dead Is Jazz, a collection of notable performances referenced in this article
Download This Mix
Recommended Album Listening