Deadify: A Guide To Facts, Figures and Year-By-Year Playlists for Grateful Dead On Spotify
Frequent site visitors may be sick of my Spotify cheerleading by now -- but for me it remains the best way to experience new music, create and share playlists, and hear the music I want whenever and wherever I'd like.
It also happens to be an awesome repository for the music I've loved for years.  Earlier this year, I put together Phishify -- a year-by-year guide to Phish's output that's available on the service.  It doesn't contain everything commercially available from Phish but it's an awful lot, and has grown since we originally published.  Deadify was a more daunting task for several reasons, but I think the results justify the effort.
Although the Spotify Dead catalog is not complete either, there's plenty of good news.  All 36 volumes of Dick's Picks are there.  Ten volumes of their Download Series also make the cut.  You'll also find the incredible classic live albums that they've released throughout their career: Live/Dead, Reckoning, One From The Vault, Without A Net and others.
And the flow of excellent live releases has barely slowed down since the group disbanded.  There's so many official releases over the last 18 years, I'd forgetten about some (Hundred Year Hall, Ladies & Gentlemen..., Go To Nassau) until I started this project.
But wait... there's more. What made this effort even more challenging is the handful of compilations and special releases that the band has offered since 1995.  The So Many Roads box set, 30 Days of Dead, Rarities and Live Cuts from the Rhino reissues.   All have worthwhile Grateful Dead music that spans the entirety of their 30 year career.  These contain some of the best material available on the service (Watkins Glen Soundcheck 1973, "She Belongs To Me" from Postcards From The Hanging, Laguna Seca "Playin' In The Band" 1988), and each had to be slotted into these playlists at exactly the right place chronologically.
I tried my best to use resources to get these in exact order -- though I'm sure there's a few mistakes in there (1980 was particularly challenging).  Some tracks appeared on multiple releases and tried to de-duplicate the best I could.  I avoided adding the studio albums, but studio rehearsals and "unreleased" tracks did make the cut.
And, yes, every time you listen to Grateful Dead on Spotify, the band gets a fraction of a cent.
Here's the year-by-year breakdown, followed by links to the playlists and some additional fun facts about Grateful Dead on Spotify.
Click a year to open a chronological stream of shows available from that year in Spotify app (web links at bottom of post)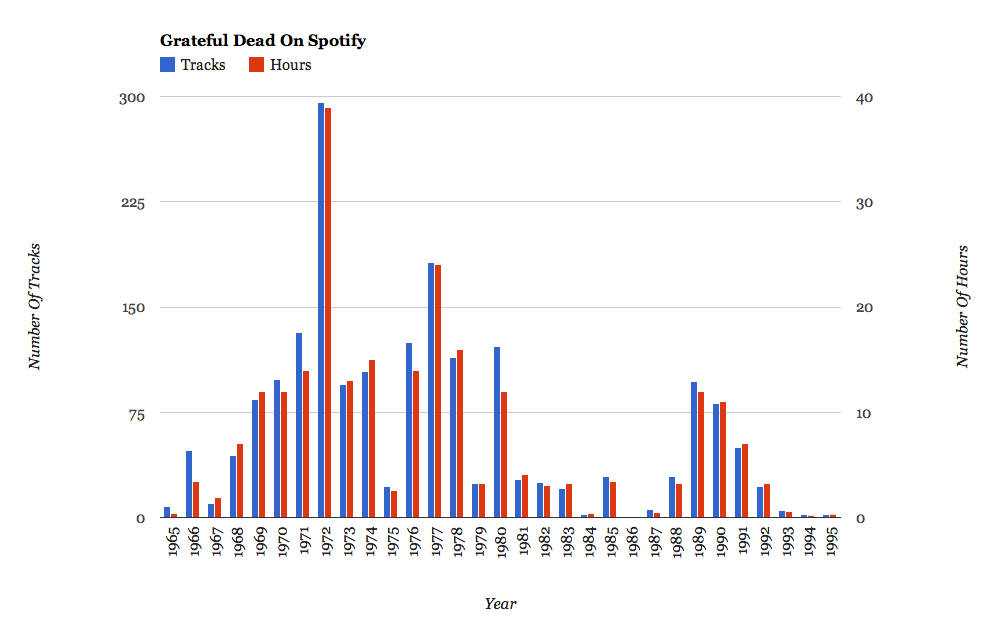 These playlists contain 1906 tracks and 241 hours of music.  That's right, you can listen to Grateful Dead on Spotify for 24 hours per day for ten days in a row and still not get through it all
Not surprisingly, the meat of these playlists come from the 70s.  1972 gets a huge boost from the plethora of Europe releases, and 1977 makes a strong showing thanks to Dicks Picks and Download Series. 1980, 1989 and 1990 also see spikes based on the recording of live albums during those eras and availability of 24 track recordings that got pumped out over the years.
Poor 1986.  The only year without a single track.  What show / tracks do you think deserve release from this year?
Notable absences:  The amazing five disc Grateful Dead Movie Soundtrack from Winterland 1974, The Dave's Picks Series, The Road Trips Series, Winterland 1977 Collection
Be sure to check out the studio jams in the 1975 playlist; I have heard no other Dead that sounds like this.
Bob Weir has two albums on the service and Jerry Garcia has a handful of assorted releases (Keystone Sessions with Merl, Hooteroll, Garcia-Grisman stuff), and guest appearances.  It's time to get over whatever hurdle is preventing great JGB to find it's way on Spotify