Grateful Dead's "Long Strange Trip" Soundtrack Combines Unreleased and Classic Material
By: Alex Wood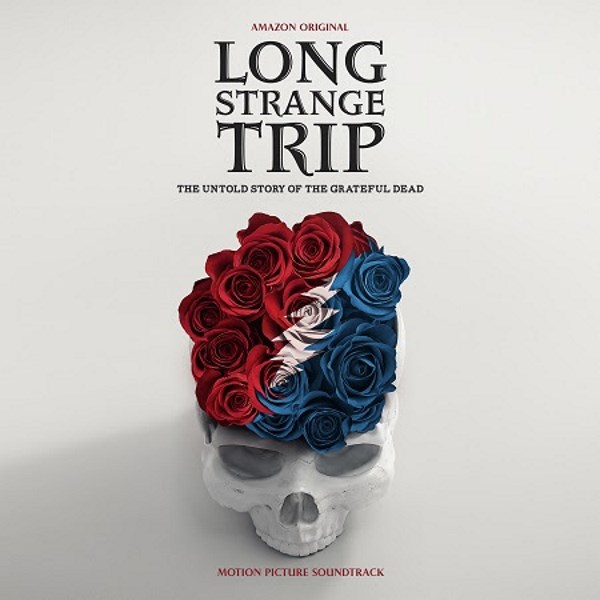 The long-awaited Grateful Dead documentary Long Strange Trip will be released in select theaters on May 26 and on Amazon Prime Video on June 2. News and reviews have been slowly trickling in from advance screenings and this week, the details of the movie's soundtrack were released, along with a full tracklist.
The documentary's primary filmmaker, Amir Bar-Lev, worked with archivist David Lemieux to settle on the final soundtrack, which combines studio and live recordings.
There will be multiple versions of the physical release, including:
A 2-CD set, which will also be shared on streaming services
An expanded 3-CD set available exclusively through Amazon and on Amazon's streaming service
A vinyl edition featuring highlights from the 2-CD set
A 6-LP vinyl version featuring the full audio from the Amazon exclusive CD set, limited to 2,500 copies
All versions will include previously unreleased material, including a "Dark Star" from Fillmore East in 1970, a Brent Mydland-led "Dear Mr. Fantasy" > "Hey Jude" from Sullivan Stadium in 1989, roughly a year before the keyboardist's death, and a "Days Between" from MSG in 1994, amongst many others.
Read the tracklists for each of the releases below.
Long Strange Trip Tracklist:
Disc One
"Death Don't Have No Mercy" (Live/Dead, Live At The Fillmore West, San Francisco, CA, 2/27/1969)
"St. Stephen" (Live/Dead, Live At The Fillmore West, San Francisco, CA, 2/27/1969)
"Uncle John's Band" (Workingman's Dead, 1970)
"Dark Star" (Live At The Fillmore East, New York, NY, 2/14/1970)*
"Easy Wind" (Workingman's Dead, 1970)
"Candyman" (American Beauty, 1970)
"China Cat Sunflower"> (Live At Chateau d'Herouville, Herovuville, France, 6/21/1971)*
"I Know You Rider" (Live At Chateau d'Herouville, Herovuville, France, 6/21/1971)*
"Morning Dew" (Europe '72, Live At The Lyceum Theatre, London, England, 5/26/1972)
Disc Two
"He's Gone" (Sunshine Daydream, Live At Veneta, OR, 8/27/1972)
"The Music Never Stopped" (Live At The Great American Music Hall, San Francisco, CA, 8/13/1975)
"Scarlet Begonias"> ( Cornell 5/8/77, Live At Barton Hall, Cornell University, Ithaca, NY, 5/8/1977)
"Fire On The Mountain" (Cornell 5/8/77, Live At Barton Hall, Cornell University, Ithaca, NY, 5/8/1977)
"Althea" (Go To Nassau, Live At Nassau Coliseum, Uniondale, NY, 5/16/1980)
"Touch Of Grey" (In The Dark, 1987)
"Dear Mr. Fantasy"> (Live At Sullivan Stadium, Foxboro, MA, 7/2/1989)*
"Hey Jude" (Live At Sullivan Stadium, Foxboro, MA, 7/2/1989)*
"Ripple"> (American Beauty, 1970)
"Brokedown Palace" (American Beauty, 1970)
Disc Three – Amazon Exclusive (CD and LP)
"Playing In The Band" (Europe '72: The Complete Recordings, Live At Beat-Club, West Germany, 4/21/1972)
"Eyes Of The World" ( Dick's Picks, Vol. 31, Live At Roosevelt Stadium, Jersey City, NJ, 1974)
"St. Stephen"> (Cornell 5/8/77, Live At Barton Hall, Cornell University, Ithaca, NY, 5/8/1977)
"Not Fade Away"> (Cornell 5/8/77, Live At Barton Hall, Cornell University, Ithaca, NY, 5/8/1977)
"St. Stephen" (Cornell 5/8/77, Live At Barton Hall, Cornell University, Ithaca, NY, 5/8/1977)
"Dark Hollow" (Reckoning, 1981)
"Stella Blue" (Live At Zoo Amphitheater, Oklahoma City, OK, 7/5/1981)*
"Days Between" (Live At Madison Square Garden, New York, NY, 10/18/1994)*
2-LP Track Listing
"Death Don't Have No Mercy" (Live/Dead, Live At The Fillmore West, San Francisco, CA, 2/27/1969)
"St. Stephen" (Live/Dead, Live At The Fillmore West, San Francisco, CA, 2/27/1969)
"Easy Wind" (Workingman's Dead, 1970)
"Dark Star" (Live At The Fillmore East, New York, NY, 2/14/1970)*
"China Cat Sunflower"> (Live At Chateau d'Herouville, Herovuville, France, 6/21/1971)*
"I Know You Rider" (Live At Chateau d'Herouville, Herovuville, France, 6/21/1971)*
"The Music Never Stopped" (Live At The Great American Music Hall, San Francisco, CA, 8/13/1975)
"Touch Of Grey" (In The Dark, 1987)
"Dear Mr. Fantasy"> (Live At Sullivan Stadium, Foxboro, MA, 7/2/1989)*
"Hey Jude" (Live At Sullivan Stadium, Foxboro, MA, 7/2/1989)*
"Ripple"> (American Beauty, 1970)
"Brokedown Palace" (American Beauty, 1970)
* -Previously unreleased