Fake Rainbows, Streams, Setlist | Grateful Dead @ Levi's Stadium 6/27/15
I'll have a little more to say about the music after tonight and a bit more time to digest, but for now: the details, the "tape" and the controversy.  See below.
GD50
Levi's Stadium, Santa Clara, CA
June 27, 2015
Set One
Truckin', Uncle John's Band, Alligator > Cumberland Blues, Born Cross-Eyed > Cream Puff War, Viola Lee Blues
Set Two
Cryptical Envelopment > Dark Star > St. Stephen  > William Tell Bridge > The Eleven > Turn On Your Love Light > Drums > What's Become of the Baby > Space > The Other One > Morning Dew
Encore:
Casey Jones
Reactions have been predictably mixed from the Dead and Phish communities, and there's probably a little something to everybody's opinions.
But what has really captivated folks was the appearance of a glorious rainbow during "Viola Lee Blues", spanning the length of the stadium just behind the stage.
Billboard quoted an unnamed "insider" to reveal that the rainbow was part of the production, and was created at the expense of $50,000.  From there, social media has exploded in what is probably 90% tongue-in-cheek fun and 10% actual outrage.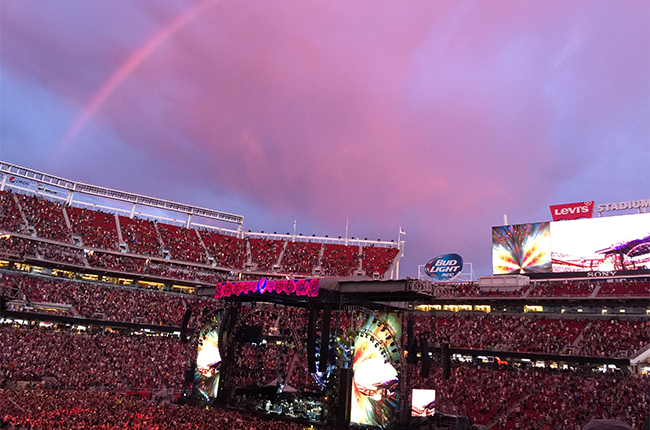 In any case, the timing (just before set break), positioning (perfectly spaced behind the stage) and magnitude of the rainbow does raise some suspicions.
Scientifically, it is possible, as this report from ABC News shows.
What a great way to create a buzz, for a run of shows that have been nothing if not buzz-worthy from their very first announcement.  That announcement, by the way, was often packaged with this image.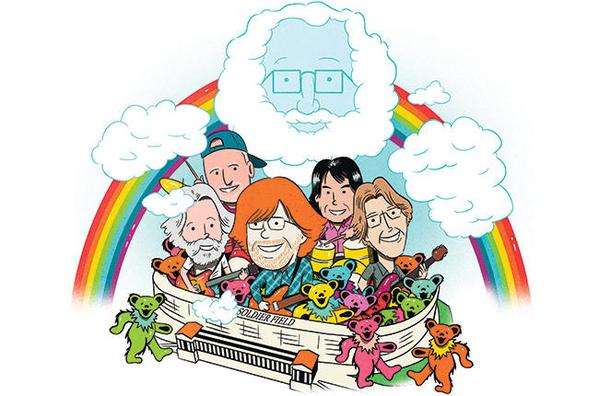 Who knew and how far up does this thing go? #rainbowgate #rainbowghazi
Here's another great one, courtesy of @JKaczorowski via @PhanArt