Grateful Dead 50 @ Soldier Field Chicago Media Post (SBD, AUD, Videos)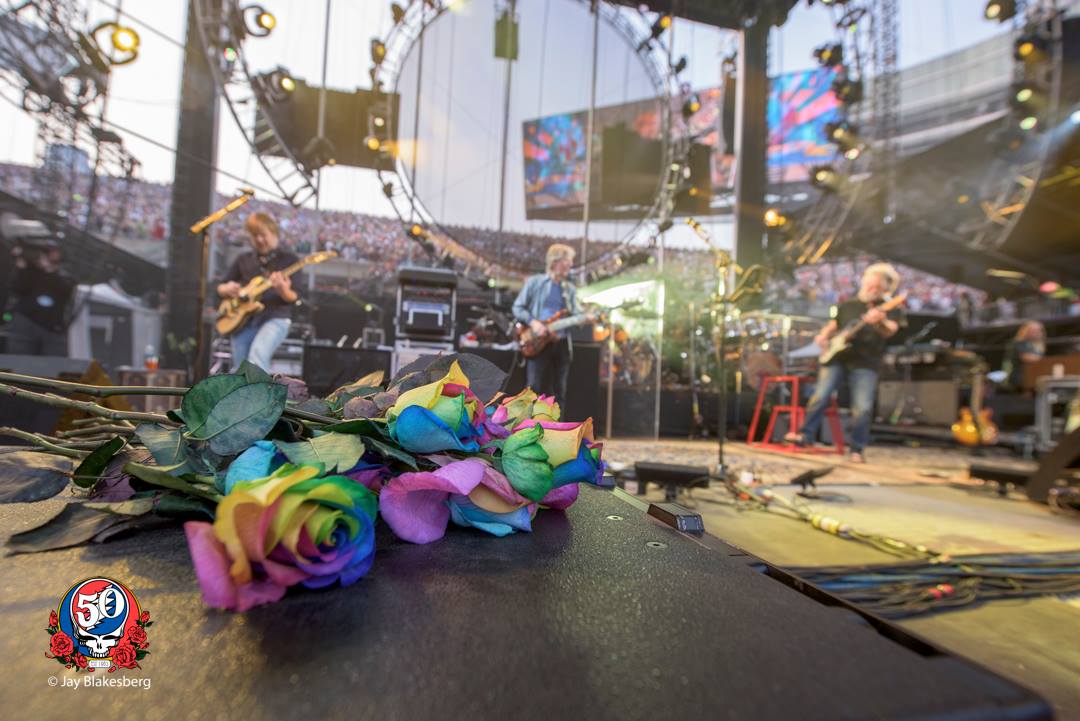 It might take days or weeks for me to fully express the range of emotions felt during this past weekend's shows.  Until then, it certainly doesn't hurt to revisit what went down over three nights at Soldier Field.
Luckily there are a ton of options.  Here are some of my favorites.
Soundcloud user quinfolk has upped what sounds like a capture of the soundboard stream used for broadcast.  The 7/5 show is embeddable, but you'll have to visit soundcloud.com for 7/3 and 7/4.  The spectacular Neal Casal set break music is even included.
But sometimes the soundboards, just don't do it...  The geniuses at NYC taper know this and have produced an audience recording that mixes six microphones ("a pair of Busman BSC2 mics, two AKG 480/CK61 mics and my Sennheiser cardioids that I sent to him especially for the occasion") to capture the feel of the sound in the stadium. I think you'll enjoy these.
NYC Taper's July 3rd Mix - NYC Taper's July 4th Mix - NYC Taper's July 5th Mix
Archive.org is always a decent source and Z-Man, an ambitious and generous archivist if there ever was one, has upped his recordings of July 3rd and 4th to that invaluable site. [Update] 7/5 now available, too.
[box type="download"]Download Entire 7/3 Show (mp3 .zip)[/box]
[box type="download"]Download Entire 7/4 Show (mp3 .zip)[/box]
[box type="download"]Download Entire 7/5 Show (mp3 .zip)[/box]
If video is more your thing, and want to get a feel for the full production of Fare Thee Well, there are some great choices, too.
Warning:  there has been some degree of vigilance about flagging GD50 videos for copyright infringement, so who knows how long these will last.
7/3/15 highlights via izeoftheworldphotos (Some nice pans to the crowd throughout as well)
Full 7/4/15 show via evenstev
7/5/15 via izeoftheworldphotos (Somewhat odd angle, skybox view?)
[Update] Amazing "Trey-cam" video of "Scarlet Begonias" > "Fire On The Mountain" via LazyLightning55a
Want to revisit the lot?  YouTubers have that covered as well. Here's a series from LiveList that incorporates scenes from all over the city, interviews, fan footage, behind the scenes and special guest footage.  There's one video from each night in this playlist.  Some of it is insufferable, but some is actually pretty cool.
Finally, the photo above is a part of an unbelievable collection shared by Jay Blakesberg photography.  Check out everything he's captured at his Facebook page.