Jerry Garcia & Bob Weir On Letterman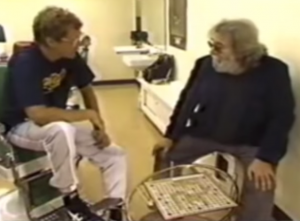 Scrabble: Garcia v. Letterman
With David Letterman's retirement announcement yesterday, I thought it'd be nice to check in with some of the inspired lunacy created during the Late Night years with our musical heroes.
Jerry Garcia and Bob Weir made three notable appearances on the show dating back to 1982, where they played acoustic on an off night between Nassau Coliseum shows. There's also a clip of Jerry teaching Letterman guitar and extensive interview segments.
The 1987 appearance featured a electric appearance with Dave's house band (Bob Dylan's "When I Paint My Masterpiece"), and famously featured the "levitating Jerry trick" and a Garcia v. Letterman scrabble game.  It's a must watch.
Two years later, they were back performing "Second That Emotion" with Paul Schaffer and friends and also sat in during the musical interludes to commercial breaks, featuring a slew of covers that the Dead also performed ("Good Lovin'", "Quinn The Eskimo", "Hideaway").
By the glory of YouTube, here are all three performances.