Mark Karan Talks Ratdog, TRI, Sweetwater and Doing His Own Thing
Mark Karan's musical history has the narrative flow of a great book.  The guitarist has spent years shuttling between the Bay Area and L.A., working in studios and on stages, laying down tracks with some of the world's most successful musicians.   The road has been filled with twists and turns, unfolding with an almost novelistic flair:  sharing the stage with legends, forming and touring with Jemimah Puddleduck (a collection of accomplished friends), even overcoming a serious health scare (he was treated for throat cancer in 2007), and finally arriving at a musical home of sorts.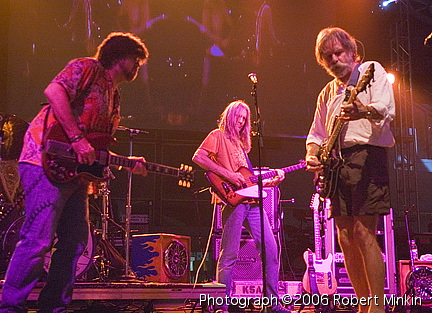 With a dozen years of working with Bob Weir and Ratdog in his pocket, and a stint as guitarist with The Other Ones, he has become one of the foremost interpreters of Grateful Dead music, but Karan casts an equal and enthusiastic eye towards exploring his own musical vision.
He is fortunate to have a number of ways to express this voice.  He embarks later this week on a (long time coming) tour of the Midwest, which will swing through Chicago on March 2nd with Melvin Seals and Terrapin Flyer (click HERE for a chance to win a pair of tickets).  Closer to home, he's become a key part of the programming at the newly reopened Sweetwater in Mill Valley, where Mark and Ratdog christened the new stage on January 26th.  I had a chance to catch up with Mark on the day of his first gig of a "Wednesday Night Live" series at the legendary club...
The Barn: Tonight begins your first gig of a residency at Sweetwater.  How exactly did that come together?

MK: Well, the residency has actually developed a life of its own.  I had a certain thing in mind that I thought I was going to make happen and then life comes in, mixes things up and decides what IT wants to happen.
The whole idea behind this residency initially was to build something incredibly small to start with and, week after week, be trying new musicians and new material with the thought towards slowly building something of value that I'd want to be doing on an ongoing basis.
It's been hard to put Puddleduck out on the road because half the guys live in Los Angeles so now I'm trying to focus a bit more on Northern California and the Bay Area.  I guess because of the excitement around the new Sweetwater, and partially because I haven't done a Puddleduck date around here in about seven months: shockingly, tonight is sold out.
Congratulations!
Thanks for that.  But I'm not quite feeling the "oh it's casual, there's going to be twenty people there" vibe anymore.  Oh, there's gonna be 300 people, I guess we should try to still be experimental, but at least try to put on some kind of show! [laughs]
So who's in the band and what's it going to sound like?
You know, it's me doing what I do with my friends, so I think there's a pretty strong thread of continuity through pretty much whatever I do.  [The first night's show featured the core of drummer Billy Lee Lewis, keys man Danny Eisenberg (Mother Hips, Ryan Adams), and bassist Joe Kyle (The Waybacks) with guest appearances by Ratdog's Kenny Brooks, Bob Gross, Bonnie Hayes, and Snakebite among others].
I've got a lot of blues influence and I like to take things, as Weir puts it, "out for a little walk in the woods."  I don't like to play things too straight; I'll throw a couple of unexpected covers here and there.
My thing is kind of blues and Americana with some unusual amounts of permission to jam and take liberties that a lot of blues and Americana bands don't generally work in.  I kind of straddle the worlds of Americana and the jam scene.
Stream The First "Wednesday Night Live" (via archive.org)
I'm sure the audience will be receptive to that given your experience with prior bands.
Yeah, it should be fun.  I'm also looking to work with another couple of guys here in the area.  In the past, I've always avoided multi-guitar bands for my own thing.  I've favored small combos, quartets, where there's lots of room for everybody to do their thing.  Multiple guitars can sometimes get a little hectic.  Having just one, I've got the guitar voice covered, the keyboard player's got the other voice covered,  and there's a lot of space.
In this instance, I've bumped into two guys [David Phillips and Robert Powell] that are both guitarists that both play pedal steel, and dobro and that kind of stuff as well.  And all three of us are really into acoustic guitars and other acoustic instruments, exploring sound and sonics.  So we're looking at putting together a whole new project from scratch that would be the three of us on stringed instruments with a rhythm section.
Would you be using the residency to debut that band as well?
I think so as it develops… but that's gonna take a little while behind the scenes to put together.  We're looking at completely revamping any existing material that any of us may have to contribute, as well as wanting to write and bring brand new music  to the party.  Maybe even rework a couple of classic covers in a way that people wouldn't expect.  The whole idea behind most of this stuff is to take my time and allow it to develop organically, not try to push it to rush it to market and put all of that kind of pressure on it.  I'm really trying to keep it about music and nothing but.
I wanted to ask a bit about the recent Ratdog reunion.  Did you guys just pick up where you left off?  Was there a lot of rehearsal? 
It was pretty much no rehearsal.  None of us had seen each other in at least two years.  We hadn't seen Wasserman or Ellis in even longer.  But, like Neil Young said, "rust never sleeps."  We got together one day before the broadcast.  It was mostly about setup but we did run a few tunes here and there, just to kinda knock the rust off and see what we could remember and what we needed to remember.
I was pleased and kind of surprised at how the TRI broadcast went.  I thought everybody was really connected, really paying attention to one another.  Not playing all over each other.  It was a very musical night; I really enjoyed it.
It was an atypical lineup given that Wasserman and Ellis were back in the fold.  And you did have to do the double guitar thing with Kimock.  Did that feel okay for you?
That night, it was great!  That can always be an awkward dance – the potential is always there for that.  You have two people trying to do the same job and there isn't necessarily enough of that work to go around.  It's a matter of effectively deciding, especially when you haven't rehearsed it, in the moment: "are you gonna go?  Should I?  Should we do something together but be cognizant of one another?"
You never really know what's going to work.  My feeling was that at the TRI broadcast things went really, really well and Steve and I were very respectful of each other; left each other a lot of room.  Each of us had moments where we got to shine.  Each had moments where we were maybe in the background a bit more.  That's what feels appropriate to me.
I agree.  I watched the broadcast and was quite pleased with what was happening.  I'm interested in the physical space at that location.  It hyped up quite a bit as such a unique space with cutting edge technology and a distinct feel to it.  How did you perceive it and what are some of the things you can tell somebody watching at home over the internet about what it feels like to be in there, how it sounds and how it's laid out?
I've spent a lot of time in recording studios and this is a spectacular recording studio to be sure.  It's really good sounding.  But, the actual playing isn't that much different than any other studio.
Having an audience in the room is what made the big difference for me.  Ratdog in the past has done a couple of things where we were playing to video cameras and no actual bodies.  It's pretty hard to get excited or creative when there's no exchange of energy with other human beings.  Having a real audience, and an enthusiastic audience, really helped to make it a more real experience.
How many people are we talking here?  That's hard to tell from the computer screen…
I'm not a very good judge.  Somewhere between 50 and 100.  They were pretty excited.  I understand in some of the earlier broadcasts, the audiences were a bit staid, polite.  Probably because people didn't know how to act in a studio or whatever.  We kind of made it our mission to make it more of a Ratdog flavored event and, if anything, the band was always a party.  It's a rolling boys club; we love each other and we like to hang.  We don't like to have too many rules. That's the nature of the band, so we liked to create that sort of an atmosphere.
That said, any discussion about more Ratdog in the future… at TRI or otherwise?
I suspect at some point there will be more Ratdog but I don't know in what form and I don't know when.  Most folks are figuring that "they did that, there's got to be more to come."  That's not a bad guess but there's nothing currently being discussed along those lines.
We know that Ratdog is not completely dormant.  That should be enough to keep a lot of fans hopeful for the next round…
Well I'm hopeful, that's for sure!  I certainly love the band and put 12+ years of my life into it so anytime Weir wants to pull it out of mothballs, I'm all over it.  Meanwhile, I'm focusing on my own thing… so either way I win.
Let's talk about your upcoming tour of the Midwest.  You're playing with Melvin Seals and other musicians that you haven't had as long history with, what's the approach there?
I've done quite a few things with Melvin.  We did the Avalon All Stars thing – that was a band that we put together briefly with Bob Vega and John Molo.  I think we did four or five dates at the old Avalon Ballroom.  One or two others around town [San Francisco].  I had some other things to do and Melvin ended up reforming the band with Barry Sless and other folks.  So, there's a bit of a history there and I've also done a handful of Melvin Seals & Friends, sat in with JGB at bit.  This will be the first time we've spent some time on the road so that should be interesting.
I don't have much experience with the other guys. [Bassist] Jimmy Tebeau, I know from JGB and the ill-fated Spook-stock event that we played out at his  property that got raided.  We know each other but don't really know each other.  In classic Grateful Dead fashion, it's gonna be "let's set this up and let go and see what happens."
Wind it up and see where it gets off to.  I 'm guessing you're going to focus on the Dead, JGB material?
That will be the focus, for sure, but I'll bring a bit of own things, too.  I love the Dead, the music has been a big part of my life for many many many years… but it is only one part of my musical life and my musical interests.  It's one thing to play all Grateful Dead material when you're out with Bob Weir and Ratdog, it's wholly appropriate!
When I'm not with Bobby, I don't mind doing that material but I like to have other stuff in there:  friendly covers that Deadheads enjoy listening to and I'll mix in a few of my tunes here and there too.  That's part of what I am.
In doing research for this interview, I stumbled across your Ghosts of Electricity project that you did – a whole night of Dylan covers – and was very impressed.  I'm guessing some Dylan stuff makes it out too?
I'd say that's pretty much a gimme.
[box type="note"]
Ghosts Of Electricity Play Dylan
[/box]
I've also read that you really enjoy the singing aspect of performance?  Any chance will get to see some Karan lead vocals on this tour?
I'll definitely take a few.  But both Jimmy and [Terrapin Flyer leader] Doug [Hagman] sing, and they pretty consistently swim in the "Grateful Dead swimming pool" and stick close to that material.  I think they'll sing the lion's share on this run.  With my own band… I sing all the songs.  I just haven't gone out and learned 100 dead songs to sing!  I have my eight or ten that I'm comfortable singing and I'll contribute those.  There will be a Dylan tune or two, or a "Hey Pocky Way", some other Dead-friendly cover material.  And we'll also source at least a couple of tunes off my record, which pretty much has nothing to do with the Dead other than that I cover "Easy Wind."
Anything you look forward to when you get to the Midwest, or Chicago in particular?
I've always enjoyed Chicago!  I like the energy, the layout.  I hate to sound like a weirdo, but I like the shopping.  We used to stay on Clark Street and I really loved the neighborhood.  I love the arty, alternative lifestyle city feel.  I'm hoping to plug into that stuff, but I imagine we'd be running from one place to the next pretty quick on this tour.
I'm looking forward to seeing everybody.  Hell, it's even been a lot of years since Ratdog was out there, much less myself.
We look forward to seeing you too!
We're playing The Abbey, right?
Yeah…
I just saw that on TV the other night… some show about rebuilding the joint!
Yeah, the band that was featured was one of our Chicago favorites, Mr. Blotto.  It's a great room, and you'll enjoy playing there.