More Details Emerge For Chicago White Sox Grateful Dead Night
We're starting to learn more about what will go down for Grateful Dead Night (July 5th) at U.S. Cellular Field.  The confirmed stuff is pretty cool, and the speculation is even cooler.
As previously reported
, Terrapin Flyer will be your live entertainment, featuring special guest muicisian Tom Constanten.
The band will perform a set prior to the game outside the park at Gate 4, a nice way to warm up prior to the game.  But what caught our eye in the initial report was that they'd also be playing during the game.
Now we've got word that the band will play between innings via U.S. Cellular's Jumbotron.  While the two minutes provided to change sides doesn't offer a lot of time to get into Grateful Dead music, the crowd will have a chance to play "Name That Grateful Dead Tune".
The following are still unconfirmed, but TC could be tapped to throw out the first pitch and play the park's organ during the seventh inning stretch.
Also, be on the lookout for a potential pre-game show on 7/4 with ticket and merchandise giveaways  Terrapin Flyer is also investigating a bus trip to the game, group tickets and a post-show performance at a separate location in Chicago.  (Update.  It was just announced... see below).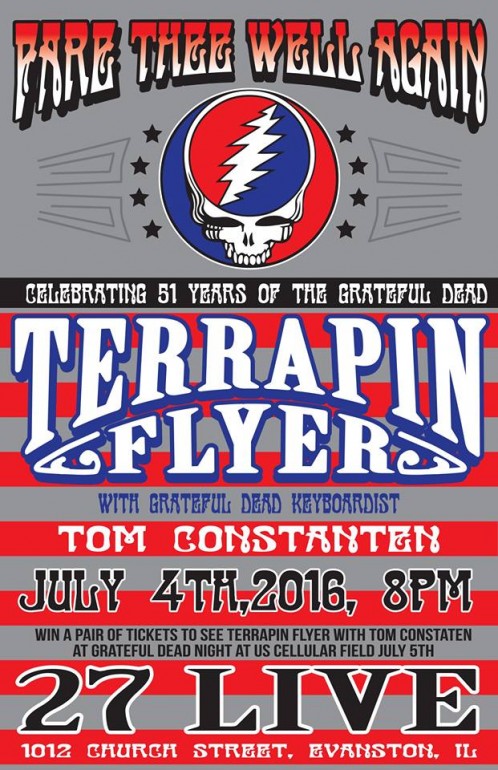 An allotment of 20 tickets, which include the bus trip and the game, and are being made available fro $60 and they are presently only available at The Windy City Inn.
The bus will leave from the Windy City Inn at 5 pm in time for the 6 pm performance of Terrapin Flyer with Tom Constanten at Gate 4 outside of the park. On the bus you will be able to drink complimentary beer!

Tickets inside the park are reserved seats all together in the bleachers. The first allottment is for 20 tickets. During the game Terrapin Flyer will perform on the Jumbotron and other Grateful Dead related things will happen.

You will receive a voucher for a limited edition official t-shirt of the event. Only 1500 of these shirts are being printed.
After the game, the bus will return to The Windy City Inn where you will be treated to another performance of Terrapin Flyer.
The band plays May 25 at Martyrs' in Chicago with Melvin Seals and Mark Karan.