Preview: Shoe Groove, Ed Anderson, Afternoon Moon & Catfish & The Dogstars @ Ace Bar 6/14/12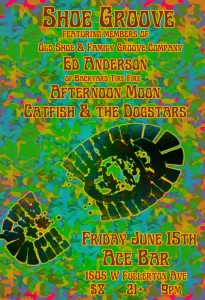 Both Old Shoe and Family Groove Company will both be playing next weekend's Stranger Danger Festival, which means you won't be seeing the in Chicago this week.  But when a good friend of the bands has a birthday that falls a week before the fest, what can they do?
Super Group!
Performing live for the first time, Shoe Groove is a collaboration of Family Groove Company's rhythm section and Old Shoe's front line.  They will take the stage as part of an action packed night of music on Friday, June 15th at Ace Bar. Rounding out the lineup and creating a bit of a "festival feel" are 2012 Summer Camp performers Afternoon Moon and jazz-fueled Chicago band Catfish & The Dogstars, with Ed Anderson of Backyard Tire Fire performing acoustic tweener sets between each band.
Admission is $8 for this 21 and older event.  Doors open at 8:00 pm and first band starts promptly at 9:00.
Complete schedule of events:
9:00-9:45
Catfish & the Dogstars
9:45-10:10
Ed Anderson
10:20-11:20
Afternoon Moon
11:20-11:50
Ed Anderson
12:00-1:30
Shoe Groove