Preview & Ticket Giveaway | Dead50 Weekend @ Martyrs'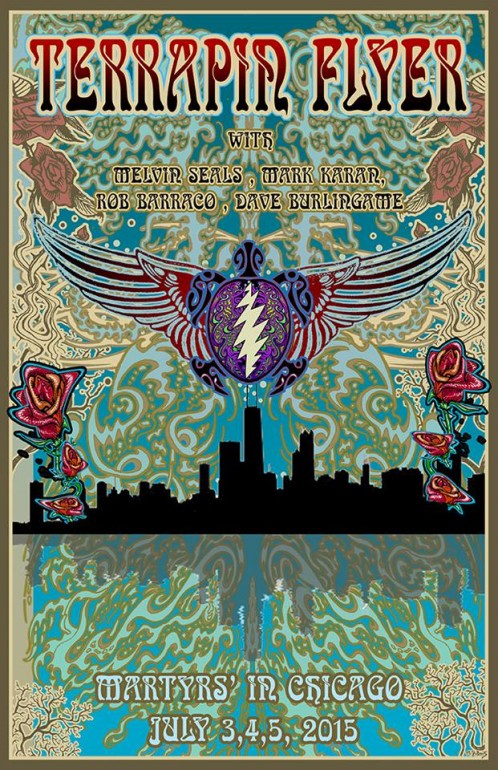 Since its opening in the mid-90's Martyrs' has always had a special place in the Chicago Deadhead world.
It's where the long standing Dark Star Orchestra got their start in a Tuesday night residency.  It has also been a frequent stop for Terrapin Flyer, a band who has grabbed the Chicago Dead band crown from DSO.
So it's fitting that they are giving their extended weekend over to the Dead during the Fare Thee Well weekend.
On Wednesday, July 1st, Texas GD Tribute Act, and frequent Martyrs' performers, Forgotten Space will share the stage with John Kadlecik (formerly of DSO and Furthur).
Friday, Saturday & Sunday, Terrapin Flyer holds court -- complete with large screen live streams of all the action at Soldier Field and a bevy of special guests including JGB's Melvin Seals and Ratdog's Mark Karan.
We want to send our readers to these great shows in an unbeatable location.  We've got tickets to give away for both events and entering is simple, but if you want to increase your odds… follow the directions carefully.
1. Send us an email with the subject "Martyrs" to info @ tomorrowsverse.com — in the body tell us your full name and which of these events, and day(s) you'd like to be entered for (go ahead and ask for multiple, but only one winner will be drawn for each).
That's it. You're entered. We'll notify the winner on June 29th. But if you want a few extra entries, let's get social…
2. Find the link to this page (or our main contest page) in our Facebook timeline. LIKE it, and tag the friend you'd like to bring in the comments — that'll give you a boost. Be sure to LIKE The Barn on Facebook for it to count!
3. Find our tweet about this page in our Twitter timeline. RETWEET it and that will give you one more boost. Be sure to FOLLOW @thebarnpresents on Twitter.
Can't decide what to see, or just want to cover your bases? Check out some of our other Dead50 Weekend Giveaways.