Preview & Ticket Giveaway | Fare Thee Well Streams @ City Winery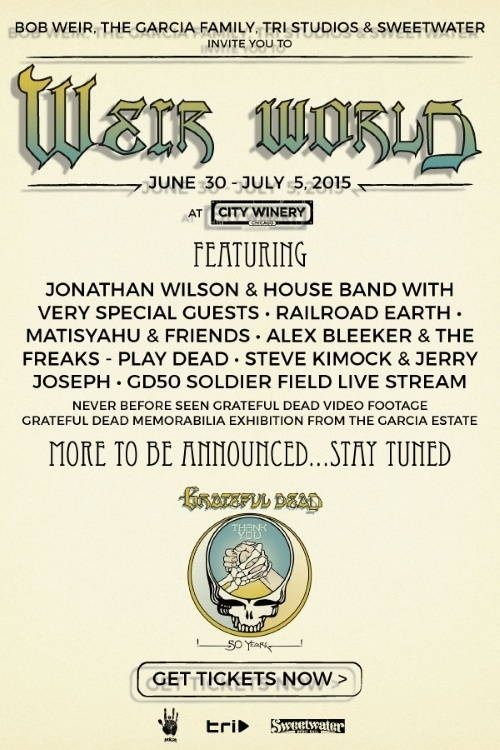 City Winery has positioned itself as a hub for all things Grateful Dead -- day, evening and late night.
Anchoring the weekend will be live streams directly from Soldier Field into their comfy and upscale music room each night from July 3-5.
If you're looking for a place to catch the shows before late nights at the Winery or elsewhere, it's hard to beat this "group watch" experience for style and service.  An excellent menu and house made wines will certainly take the sting away from not getting in to the big house, and perhaps some free admission can also salve your ticketing woes.
Plus, the whole she-bang is being presented by Bob Weir, The Garcia Family, TRI Studios & Sweetwater.
So… want to see for yourself? We're giving away two pairs of admission for each night and entering is simple, but if you want to increase your odds… follow the directions carefully.
1. Send us an email with the subject "We Can Share The Wine" to info @ tomorrowsverse.com — in the body tell us your full name, the day (or days) you'd like to attend and the type of wine you propose to sip while watching these shows.
That's it. You're entered. We'll notify the winner on July 1st. But if you want a few extra entries, let's get social…
2. Find the link to this page (or our main contest page) in our Facebook timeline. LIKE it, and tag the friend you'd like to bring in the comments — that'll give you a boost. Be sure to LIKE The Barn on Facebook for it to count!
3. Find our tweet about this page in our Twitter timeline. RETWEET it or REPLY with your wine varietal of choice and that will give you one more boost. Be sure to FOLLOW @thebarnpresents on Twitter.
Can't decide what to see, or just want to cover your bases? Check out some of our other Dead50 Weekend Giveaways.