Review / Setlist / Videos | Brian Wilson Performs "Pet Sounds" At Pitchfork Music Festival 7/16/16
By: Alex Wood | Photo: @exhasutedwriter Instagram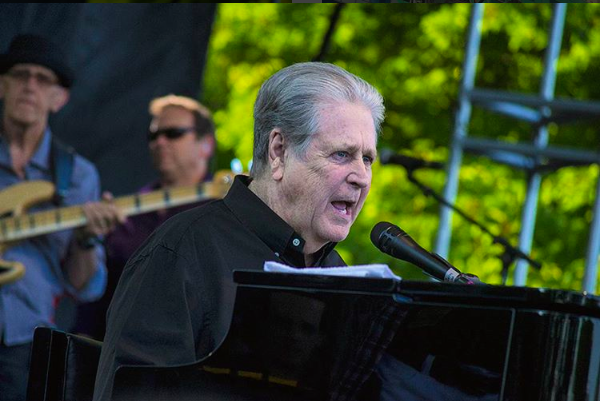 Though I wasn't sure what to expect, I had to see Brian Wilson's final tour performing Pet Sounds in full.
By the age of 10 I could probably tell my teachers that Pet Sounds was the greatest album of all time, my dad's opinion engrained into my impressionable mind like fact. My first concert was a cheesy Beach Boys show in a Peoria arena at the age of five.
Though I knew Pitchfork Music Festival wasn't the ideal setting to see it, time was running out and it ended up being the only option to fit within my schedule. Though not ideal, it presented an interesting context in which to observe the spectacle that is Brian Wilson in 2016.
The massive crowd at Union Park was packed by Wilson's 7:25 show time, and the songwriter and his band took the stage a few minutes early.
Surrounded by nine musicians of varying ages, including Beach Boys members Al Jardine and Blondie Chaplin, Wilson appeared prepared to take on the live performance of one of popular music's greatest masterpieces, its notoriously obsessive and meticulous recording no simple feat to match in a live setting.
Yet the intricate, layered production was only part of Pet Sounds' initial beauty, the other piece of the puzzle being Wilson's flawless vocals and the equally perfect background harmonies.
At age 74, and 50 years past the original recording of Pet Sounds, Wilson's voice no longer holds that magical precision. In fact, it hardly holds a tune, the singer's gravelly voice often botching the timeless melodies entirely.
Despite the obvious wear on his vocals, is the magic of Pet Sounds enough to carry the set and justify this tour and festival slot?
Sandwiched between groups of mostly drunk 20-somethings, I was initially disappointed by the noisy crowd, many people talking through A-side classics like "You Still Believe In Me" to the extent of it drowning out the quieter moments of the music.
Annoyed by the talkative people in front of me, I stepped back and tried to take in the band as a whole.
With up to three keyboards at a time, an auxiliary percussionist in addition to a drummer, saxophone, guitars and bass, the band was set up to tackle Pet Sounds' epic proportions.
Musically, a fan couldn't ask for more.
The band played with enthusiasm and precision, as though to respect the beauty of the compositions themselves. Instrumentally, the songs were as hard hitting as ever, and certainly fun to hear in a live setting.
Yet the band's enthusiasm sat in direct contrast to Wilson's demeanor, the singer gazing blankly, sitting behind a piano that I often couldn't hear in the sound mix. Vocal lines would trail off, or be handed to other members of the band if requiring a high register.
As the show continued, and after assessing the music itself, the audience became less of an irritation to me. The group in front of me was singing earnestly and loudly along with Wilson's out-of-tune vocals on "I'm Waiting For The Day," and their drunken celebration of Pet Sounds began to represent the exact value in the band's performance.
Regardless of Wilson's musical abilities, thousands were gathered, united by a collective attachment to one of the greatest albums of all time. Almost everyone was too young to have seen Wilson anywhere near his prime, so what can you do?
This realization brought an immediate shift in my mood.
As though to reinforce the fun, not-overly-serious vibe, Wilson brought out John and Joan Cusack for background vocals on Sloop John B. Nobody had any idea why, and nobody really seemed to care.
"I Know There's An Answer" was a highlight of the set, the band carrying most of the weight but Wilson still a positive addition. "Pet Sounds," the album's final instrumental, was transformed into a longer jam, offering the backing members individual opportunities to solo. With Wilson sitting idly, the band tackled the surf-rock vibe with expertise, again thanks primarily to the strength of the original composition.
After the album's completion, the band stuck to Beach Boys songs, immediately performing "Good Vibrations," the first track released to the public following Pet Sounds.
As though moving chronologically, the band played 1967's "Wild Honey" followed by 1973's "Sail On, Sailor." The unusual song choices fit the festival perfectly, making the next run of "Barbara Ann," "Surfin' U.S.A." and "Fun, Fun, Fun" sound petty and silly in comparison.
Did Brian Wilson's Pet Sounds compare, musically, to the likes of Paul McCartney, still performing tirelessly at 74 years of age?
Of course not.
But the concert served a purpose, relaying the same carefree, good vibrations that the Beach Boys did best 50 years ago. And, especially in a setting like Pitchfork, that's enough.
Watch Wilson perform "God Only Knows" and read the full setlist below. 
Setlist:
1. Wouldn't It Be Nice
2. You Still Believe In Me
3. That's Not Me
4. Don't Talk (Put Your Head On My Shoulders)
5. I'm Waiting For The Day
6. Let's Go Away For Awhile
7. Sloop John B (ft. John and Joan Cusack)
8. God Only Knows
9. I Know There's An Answer
10. Here Today
11. I Just Wasn't Made For These Times
12. Pet Sounds
13. Caroline, No
14. Good Vibrations
15. Wild Honey
16. Sail On, Sailor
17. Help Me, Rhonda
18. Barbara Ann
19. Surfin' U.S.A.
20. Fun, Fun, Fun