Review / Videos / Setlist | Dave & Tim @ Northerly Island, 6/10/17 & 6/11/17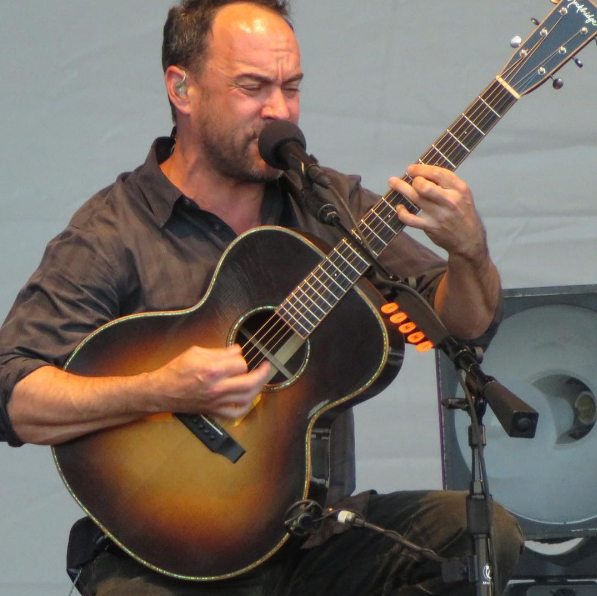 Words: Alex Wood | Photo: Lacubanaboo
Rarely in history have two acoustic guitarists commanded a 30,000 capacity venue's attention as Dave Matthews and Tim Reynolds do.
The two sold-out nights at Northerly Island's Huntington Bank Pavilion were amongst the most sought-after tickets for Dave & Tim's tour, and the shows didn't disappoint.
Saturday, June 11
Saturday night began with back-to-back classics "Lie In Our Graves" and "Satellite," setting up an early section of the set that featured many Dave Matthews Band favorites such as "What Would You Say" and "Warehouse."
"Dive In" came unexpectedly, a tour debut that hadn't been performed in 36 shows. "Proudest Monkey" was an even bigger surprise, last performed 79 shows prior.
The duo was able to fill the massive outdoor venue with sound thanks to Dave's powerful vocals and commanding stage presence, with Tim's exceptional guitar playing covering more ground than three musicians usually could.
As always, Tim performed two acoustic instrumentals, recent favorite "Manfood" and older song "Che," a tour debut which has only been performed twice since 2011. Both songs flaunted his lightning-fast finger-picking and progressive chord progressions, sounding like a mix of classical music, bluegrass, folk and rock.
New songs "Samurai Cop" and "Bismark" were performed, in addition to the Woody Guthrie song "Worried Man Blues" which has been performed heavily this tour.
A somewhat rare and appreciated "Where Are You Going" shined in the acoustic setting, and led to DMB classics "Don't Drink The Water" and "Two Step" closing out the set.
"Why I Am" opened the encore, the song always feeling like a favorite of Tim's, and led to older staples "The Song That Jane Likes" and "Jimi Thing" to end the night.
Sunday, June 12
Sunday's set rewarded longtime followers with a mix of deeper-cut fan favorites and surprises.
The show opened with "Little Thing," a song that never saw an official release but was reworked under a new titled on Matthews' solo record Some Devil. The song then became "Bartender" and "Granny," two undeniable highlights.
Later in the set, the duo played "Cornbread" and "Little Red Bird" in a row, both b-sides from the Groogrux King era.
The set also notable featured three tracks from Everyday ("When The World Ends," "The Space Between," "Everyday") and two from Stand Up ("Old Dirt Hill," "You Might Die Trying"), both albums that Dave Matthews Band tends to perform the least. This tends to feel like a treat during a Dave & Tim set, even during songs that are somewhat exhausting during the band's sets.
Tim performed "Jemez Rolling Waves," an instrumental not heard since 2009, paired fittingly with "Death On The High Seas."
Other highlights included fan favorites "The Stone" and "Minarets," and a tour debut of "Too Much."
The end of the set was heavy on material from Under The Table And Dreaming, ending with "The Best Of What's Around" and "Dancing Nancies," and the encore finishing with an obligatory "Ants Marching."
Performing 54 songs over the course of two nights, Dave & Tim again justify the existence of their diehard fanbase, and more than lived up to the hype surrounding the run.
Watch video from the shows below.
"Dive In" (6/10/17)
"Bismarck" (6/10/17)
"Granny" (6/11/17)
"Tripping Billies" (6/11/17)
"Rapunzel" (6/11/17)
"All Along The Watchtower" (6/11/17)
"Crash Into Me" (6/11/17)
Setlist: 6/10/17
1. Lie In Our Graves
2. Satellite
3. Save Me
4. What Would You Say
5. Dive In
6. Funny The Way It Is
7. Warehouse
8. Proudest Monkey
9. Stay Or Leave
10. So Damn Lucky
11. Bismarck
12. Crush
13. Che
14. Out Of My Hands
15. Worried Man Blues
16. Samurai Cop
17. You And Me
18. Grey Street
19. Manfood
20. #41
21. Where Are You Going
22. Don't Drink The Water
23. Two Step
Encore: 
24. Why I Am
25. The Song That Jane Likes
26. Jimi Thing
Setlist: 6/11/17
1. Little Thing
2. Bartender
3. Granny
4. You Might Die Trying
5. So Much To Say
6. Gravedigger
7. When The World Ends
8. Corn Bread
9. Little Red Bird
10. Old Dirt Hill (Bring That Beat Back)
11. One Sweet World
12. Tripping Billies
13. Jemez Rolling Waves
14. Death On The High Seas
15. The Stone
16. A Whiter Shade Of Pale
17. Minarets
18. Too Much
19. All Along The Watchtower
20. If The Ocean Had Its Way
21. The Space Between
22. Everyday
23. Rapunzel
24. The Best Of What's Around
25. Dancing Nancies
Encore:
26. Some Devil
27. Crash Into Me
28. Ants Marching