Setlists, Pro-Shot Video | A Leftover Salmon NYE Suprise Party @ The Vic 12/30-31/14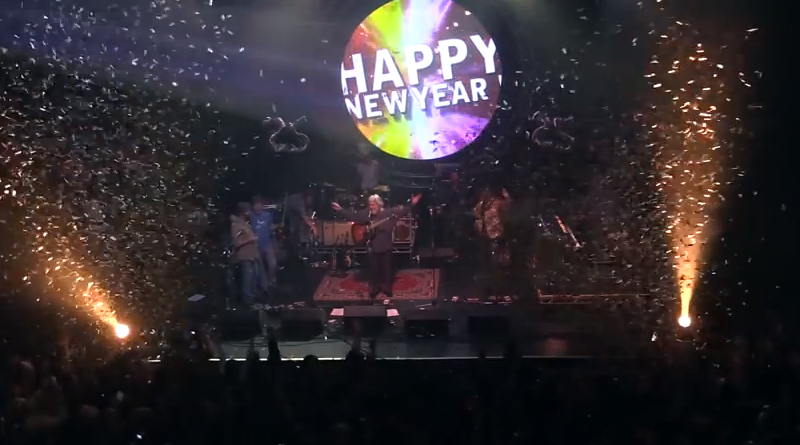 The Leftover Salmon boys set up shop at Chicago's Vic Theater for two shows over New Year's Eve.  There were plenty of reason to be excited with Keller Williams sharing the stage, but it it turned out the party planners had  a big more up their sleeves....
The NYE show also happened to coincide with the 25th anniversary of the band's first ever performance.  What better reason to have a party with one of the greatest party bands of all?  And what's better than a Salmon party?  A surprise Salmon party.
The band didn't know it, but two of their "biggest and scariest" influences were waiting in the wings to celebrate with them  in the wee hours of 2015.  Mr Sam Bush and Col Bruce Hampton, Retired.  And yes, Mayor McCheese was spotted as well.
Turns out they had to scrap their originally planned NYE setlists, but oh! what fun to feature these guys in a celebration.
We're lucky to have both video of that moment, as well as the 25th anniversary video played during setbreak featuring luminaries and co-horts such as Sam, Taj Mahal, JB, Jeff Coffin & Del McCoury wishing Drew and Vince the best in their 25th year.  There's also a nostalgic and heart-string tugging look back at twenty five years of poly-ethnic Cajun Slamgrass.
The band has set up an online forum for fans all over the world to share their experiences.
12/31/2014
The Vic Theatre - Chicago, IL
Set 1
Carnival Time
Whiskey Before Breakfast
Baby Hold On
Better Day
Way Down Under
Two Highways
Aquatic Hitchhiker
Cajun Girl
Surprise 25th Birthday Party On Stage For The Band With Col Bruce Hampton and Sam Bush
Set 2
Let's Give a Party
Breakin Thru
Rag Mama Rag
Space Is The Place*
Franklin's Tower^
Spanish Moon^
Born To Be Wild^
Sing Up To the Moon
E: Yield Not To Temptation*
Entire second set with Sam Bush
* with Col. Bruce Hampton
^ with Keller Williams
12/30/2014
The Vic Theatre - Chicago, IL
Set List:
Wild Bill Jones
Unplug That Telephone
Western Skies
Bolin Creek
Easy to Slip
Tu N'as Pas Aller
Morning Sun
Liza
Gulf of Mexico
Oh Atlanta
Keep Driving
All Night Ride
Boogie