Stream, Download & Photos: Old Shoe with Vince Herman @ Shoe Fest 9/10/11
I was so happy to finally see some sets by Chicago area jammers Old Shoe pop up on the Internet Archive.  There are several 2011 shows to choose from, but I couldn't resist sharing this one from their signature event, Shoe Fest, held in September.  Not only do they offer some of their original music, but they toss in choice covers of both The Dead ("Scarlet Begonias") and Phish ("Twist") and invite legendary Leftover Salmon / Great American Taxi guitarist-vocalist Vince Herman to share the stage for a couple of covers as well.  Definitely worthy of a few plays before you explore the rest of the archive.  The always crisp photos by Jay Miller (@reverbsoul) of Gaian Eye are an excellent complement to capture the spirit of this event and fun sit-in.
Old Shoe plays Wednesday nights in 2011 at ACE Bar in Chicago and has just announced unique New Year's Eve gig, playing both acoustic and electric along with Sexfist, Chicago Afrobeat Project and others at the Abbey Pub.
[box type="download"]Download Entire Show (.mp3 zip)[/box]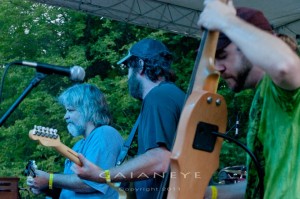 [box]
Setlist
Day Rains Night, Rhett, Twist, Welcome Home, Big River*, Iko Iko*, Breathe > Let Yourself In, Beer, Mouth of The Lion > V, Harder They Come, Scarlet Begonias, Goin' There
* w/Vince Herman & Chad Staehly
[/box]