Stream or Download: Terrapin Flyer Covers Workingman's Dead at Abbey Pub Residency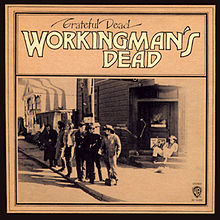 The weekly Dead jam is back in Chicago! Each Wednesday, Terrain Flyer brings a host of  the best Dead-loving musicians from all over the city to jam out at Abbey Pub.
They promise to cover a new full album the last Wednesday of each month (next up is Skull and Roses on 3/27).  For their first attempt, on February 27th, they hammered out Workingman's Dead, staying true the acoustic instrumentation on the album, and even brought in a "Pigpen" on blues harp (Rickey Trankle), lap steel player (Rocco Labriola0, and Ben Wright of Henhouse Prowlers on banjo.  Then, they capped the night off with another full set of GD and JGB tunes before encoring with an acoustic "Ripple"
Stream Entire Show
[box type="download"]Download Entire Show[/box]
Terrapin Flyer at the Abbey Pub on 2/27/13

Set I (Workingman's Dead)

Uncle John's Band*, High Time@, Dire Wolf@, New Speedway Boogie*, Cumberland Blues#, Black Peter$, Easy Wind%, Casey Jones^

Set II

Harder They Come@, Good Morning Little Schoolgirl~, Alabama Getaway~, Big River~, Next Time You See Me+, Lovelight+> Bird Song+, Wang Dang Doodle+>Spoonful+>Good Lovin'+, Ripple@

* - with Kris Nowak, Doug Hagman, Dave Burlingame, Tony Dellumo
@ - with Rocco Labriola on pedal steel
# - with Ben Wright on banjo
$ - with Rickey Trankle on harp and Joe Marcinek on keys
% - with Rickey Trankle
^ - with everyone on stage
~ - with Mike Miller on guitar replacing Doug Hagman, Rickey Trankle and Rocco Labriola
+ - with with Rocco Labriola and Rickey Trankle