The Barn's Interview With Tom Constanten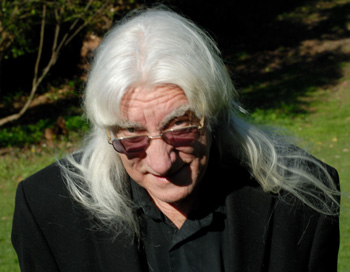 There are few musicians that I've encountered that are more comfortable in their own skin as Tom Constanten. Joining the Grateful Dead as a keyboardist at a precarious time as they transitioned between the height of their cultural importance to the peak of their musical importance, he contributed greatly to the band's most innovative and groundbreaking work. A classmate and musical collaborator of Phil Lesh's since before the band ever took shape, Tom took a detour into the armed services during the formative years of 1965-66, so he brought with him a distinct personal style by the time he hooked up with the Dead for the recording of Anthem Of The Sun.
His intersection with the Dead surely put an exclamation point on a satisfying and unusual musical career that spans composition, performance and academia.  Nimbly steering between classical and more popular forms with ease, it is with a casual matter-of-factness, he tells me, "I come back to rock, I come back to Rachmaninoff."
Asked if there was a singular event that set this this highly personal course in motion, Constanten replies, "I trace it back to my debut (so to speak) playing a composition of my own on piano backed by a symphony orchestra on May 28, 1961. 51 years ago! Since then there have been so many different guises and styles and musical explorations -- with theater, with film, with rock bands -- you name it."
One of these guises, of course, is continuing to honor the bold late sixties sounds created with the Grateful Dead. He is preparing to embark on yet another TC and Friends trip (the Remembering Jerry Tour with Terrapin Flyer) in August and will also appear at the Camp Terrapin Festival in Illinois.  "The last several years, I've adopted an attitude of taking things as they come. To be sure, they are getting more and more interesting. It has been one amazing event after another."
"I guess I came upon the band at a very fortuitous time," he recalls when we shift our conversation to discuss his career with the Dead.  "It was a time of exploration and it was 'zesty'. There was a real zest for jumping into the deep end of the pool and seeing what we'd find."
That ride included a blend of hard work and a one-of-a-kind social atmosphere.   "We were pushing the envelope in terms of creativity and technology at the time. It was a great big party and we enjoyed that aspect of it."
Expounding on how these experiences had informed his work since, Constanten contemplates, "back in the sixties, a lot of the things that are standard procedure hadn't evolved yet. We were learning as we went along. Which was daunting, because we had to figure out stuff, but also exciting because there was nobody to tell us how to do it."  He has applied this formula to dozens of musical formations and excursions in the years since.
Regarding his ability to be musically effective across genres, Constanten hearkens to a sort of cosmic sense the binds via music. "It is one extensive and connected image. I don't necessarily apply everything I learned at any given moment, there might be a certain memory I will harbor back, yank out and make applicable at a certain time. It is such a big mix. There are thousands upon thousands of musical gestures ideas and connections that can be made, the trick is to be on top of your game so you can do that instantly."
"Part of the excitement of the Grateful Dead experience was the way in which everybody was so open to things," he remembers when we dive into the innerconnectedness between open and improvisational psychedelic rock and the world of classical music that he feels equally comfortable in.   "Phil and I were into the European avante garde of the 1950's: Stackhausen, Berio and some of the Americans as well. Others were deep into John Coltrane and jazz.  All these influences where welcome and when they rubbed together, things got quite sudsy"
Constanten recognizes that he was not alone in putting a charge into music at the time.  "Frank Zappa's 'Help I'm A Rock', The Beatles' 'Revolution 9' are definitely influenced by John Cage. There were definitely connections... I can point you to the exact passages. Frank went on to collaborate with Pierre Boulez. There are connections galore."
He continues to push the boundaries of technology to inspire his artistic work today. "Technology enables the creative actions and once you are engaged, we think 'wouldn't it be nice if we can do this thing?'" For Constanten, the inspiration has always been there, but the pathways to achieve what he hears in his had have been shortened.  "The world inches on a little bit farther. Digital and MIDI opened up a brand new world. We can do things now that we could only imagine and dream about in the sixties. They were just so laborious. Nowadays anybody in their living with a computer can do that"
A singular individual, he sums up his choices and experiences quite succinctly, while acknowledging those who have helped make it happen.  "My career is personal. There are a lot of people out there who have been paying attention and I appreciate that a lot."