The Plan Was To Become A Rock Star: The Barn Speaks With 'Local Gal' Cathy Richardson
While VH1 would have you believe that the typical band's career narrative might flow like three-act play (discovery, fame, downfall), Cathy Richardson's is more like a Dickensian novel.  From Chicago's western suburbs to the national stage (many times over), the hallmarks of her career have been opportunities presented and seized, a revolving cast of colorful characters and collaborators, and an unpredictable path that has provided both her and her fans a steady stream of something new to chew on.  Richardson has been able to navigate in and out of projects with rare poise and professionalism, offering that big rock voice and a pile of intangibles at each step along the way.
Cathy has been gracious enough to open up about these career twists and turns with The Barn.  As your friendly neighborhood suburban music bloggers, we couldn't resist starting at the very beginning, but our discussion eventually wound up in the present day, including The Barn Presents Spotlight Show with Cathy and The Macrodots at Montrose Room in Rosemont on Saturday, April 30th.
We're trying hard to embrace and support our little music scene in the suburbs.  I  was hoping you could share a little about what you took away from living and playing music here, and how the communities, institutions and people helped you get going.
Well, there were countless people that helped me get started.  One of the first major proponents of my career was Jim Peterik, who lived in La Grange for a time (he lives in Burr Ridge now).  My dad used to have an Amoco station in Countryside on Plainfield and La Grange Road.  Jim used to fill up his Jag there.  He was the local rock star about town.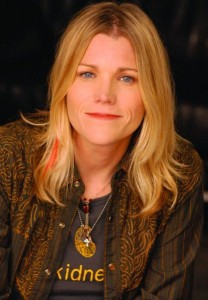 My dad ran out there one day and said, "Hey! You're that guy from Survivor… I have this daughter who sings", and that was pretty much my introduction to him.  A few years later, through a series of coincidences, we ended up working together and eventually I did my first record in his house.  He was instrumental in helping launch my career.
In those days, I was also doing a lot of open mic stuff, playing solo and acoustic, trying to get gigs, trying not to get doors slammed in my face.  Eventually, that's how I ended up getting hired to play professionally.  A couple songs at an open mic would get a great reaction, and eventually the club would end up giving me a gig.  Brixie's in Brookfield was one of the first places I played regularly and my first performance there was an open mic night.  There used to be a place called The Playhouse in Forest Park… Kenny's Tavern on 55th Street.
That's still there!
When I was playing at The Playhouse, the owner, Robert Morani, really liked me so he would have be open for the more popular local bands like Mr. Blotto and Uncle John's Band.  Dick Holiday and the Bamboo Band were huge at the time.  I opened for them and they offered to be my backing band!  Things would just happen like that:  I would just go out and play, meet people, get a response, and that would just open another door and another door.
So it kind of just started out here in the suburbs and eventually morphed into Cathy Richardson of Chicago…
Yeah, totally!
You've tackled a variety of different formats and covered a lot of musical ground: solo acoustic, fronting your own band, musical theater, television, a role player in established bands.  There are some musicians that pretty much stay in their comfort zone, where you seem to really mix it up and go for a lot of different challenges.  Was this a conscious decision?
I'd like to say it was a well thought out, pre-planned thing, but really the plan was just to be a rock star and everything else just came along as a result of me trying to achieve that goal.
Good planning!
Honestly, as far as musical theater thing...  another example of this stuff just kind of coming my way.  I didn't really ever pursue it, it just sort of happened to me.  An opportunity would come up and I'd say… "yeah, let's do this."  Especially if it would be challenging and expanding for me.
I always sang Janis Joplin tunes from the time I was in high school.  When the Janis Joplin play [Love, Janis] came to Chicago, the producers called me and told me that everybody has been saying that I was the girl to do it.
I said, "no, no… I love Janis but I don't sound anything like her.  I don't do musical theater.  It's not really my thing."
But the show's producers were persistent: "Just come down and check it out.  We're not looking for a theater person, we're looking for a real rock and roll person that can capture the spirit of Janis".  I thought that I'd go down there on a goof, meet the musical director (Sam Andrew from Big Brother) and see what happened.
Hell, I was going to go see the show anyway.  I'd heard it was coming to town and thought it'd be interesting.  I walked in, and they were like, "you'll fit the costume!  We really want you to do this!"  I did my best to talk them out of hiring me, and the director made it clear that I was born to do this.  What do you say to that?
You say, "I'll take it!"
I mean, Janis Joplin's family was part of the show!   I thought if I didn't do it, I'd always wonder what could have been.  It turned out to open up this whole new world to me.  It took me out of being the bar singer of Chicago into the national spotlight.  I went to New York and all over the country.  It was an amazing thing that happened to be as a natural next step to what I was already doing.
From there, I ended up singing with Big Brother and now being in Jefferson Starship.  All that happened because I took a chance with Love, Janis.  I moved to San Francisco to do the show there a couple of years ago.  I had just signed a lease on a new apartment and the show closed five days later.  I had just moved all my stuff across the country and didn't know what to do next.  Then, Big Brother made an offer for me to go on tour.  Big Brother went out for some dates with Jefferson Starship and then their singer quit on them… and I was right there.  All these doors just kind of open when you follow your heart.  I feel very lucky.
You've also have had the opportunity to do some television work.  I know you've been on [Noggin's] Jack's Big Music Show, which my kids adore.
That was another thing that just sort of came to me.  The show was made here in Chicago and obviously the creators were totally in to music.  They wanted to use local musicians as a part of the show.  Since I was getting some airplay on XRT, they got to know me.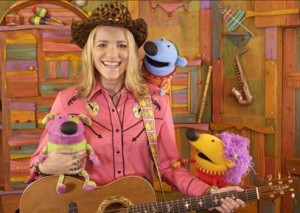 In the pilot, I was the voice of one of the puppets.  I was so excited about that since I love to do funny voices and that's something I've always wanted to try.  After the show got picked up, they decided it'd be too difficult to dub in the voice, so they went with a puppeteer to do the voice and the puppet.  Good news, bad news, though.  Bad news:  I wasn't going to be the voice of Mary.  Good news:  I was going to be on camera, as myself.  I was originally devastated, but then I thought it over and said, "it's still cool to be on TV."
So doing children's music is yet another of the many facets of your career.  Ever give any thought to doing kid's concerts or a kid's record?
Yeah.  I have thought about it but have yet to pursue it.  Mainly, because I've been juggling so many things.  The fact that [Jack's Big Music Show] was somebody else's project that I had to just come in and be a part of it made it really easy for me.  I mean, when I think about the amount of time I actually spent working on that show, it probably amounts to less than a week.
They keep playing the episodes over and over again, so it gives viewers the impression that it was more work than it actually was.
It seems like it's something that's my full time job.  But I really just did four on-camera episodes and then did the off-screen voice of the mom, that I finished in one day of being in the studio and saying the lines.  It was a minimal time commitment but such a huge exposure.
A little lasts forever in kid's TV land.
I sometimes think maybe I should pursue it somehow.  It's churning around in my mind, but haven't quite figured out quite how I'd do it.  Maybe it'll take somebody coming to me and saying "we want to do a show with you."
You talked a bit about being busy.  I know one thing that's keeping you busy now is the band The Macrodots.  I find that an interesting project for you since you've done some things where you're the boss, and some things where you're the employee, but here's one that seems like a true partnership and collaboration with Zack Smith.  I'm curious as to what  your take is on the difference  between being a bandleader and being a co-leader and how different musical ideas get brought to the table and hashed out.
Music wise….  This was a pure collaboration.  Creatively, Zack was the gas in the tank for making the record.
He had seen Love, Janis in San Francisco and he had approached me about trying to reach a wider audience.  Playing Janis is great, but it's about Janis and not about you.  I've been out there creating and putting records out on my own without total breakthrough success.  Zack had done that with the band Scandal, but it had been a long time since he'd been out playing live.
People don't know that he used to play with Otis Taylor and was a big part of his act for a long time.  But more recently he's been a studio producer and really missed  being in a band.  Scandal was kind of a one-hit-wonder, and that wasn't the legacy he wanted to leave on rock and roll.  He is much cooler and more talented than that band ever showcased.  He wanted go beyond Scandal while simultaneously helping me; it was just a matter of getting the right songs and the right sound.
He would give me all these song ideas that were left open lyrically and melodically for me to fill in.  We spent three years with these songs working, re-working, starting over in the studio.  I've never had a process like that before!  Striving and pushing to make it better and better, not just assuming that since it came out of you it was great.
The single that XRT is playing… we probably did thirty versions of that over the course of years!  It was hard for me to have somebody creatively challenging me, since I wasn't used to it.  But I think the end result is the best thing I've been a part of.
Now, we're trying to play live and this is much more about what I know how to do.  We have a new management team.  We play a lot locally because this is where I have the biggest following.  We're trying to create a buzz and then take it out on the road.
The name of the band makes me smile and is also a bit thought provoking at the same time.  Who came up with that and what kind of thought went in to it?
I was reading this book about 2013, about the universe kind of discovering who it is and reflecting on itself and having this great awareness.  There's a lot of talk about December 2012 and what's going to happen when our solar system is in the center of the galaxy and I think the word Macrodot was mentioned.  I was so stimulated and wrote down a whole list of words and Macrodot was one of them.  It's sort of a play on the LSD Microdot, but it is a much bigger concept about the larger things that connect us.
As we started putting the players in the band together, I starting seeing this whole picture of the Macrodot of being this psychedelic rock that comes from San Francisco.  Donnie [Baldwin, the drummer], I play with in Jefferson Starship and he was Jerry Garcia's drummer in '94 and '95.  I met [guitarist] Jude [Gold], ironically, on myspace.  He actually played in JGB with Donnie after Jerry died.  So the Grateful Dead / Jerry Garcia thing is definitely happening here.
Then, there's the Otis Taylor connection.  Anne Harris, our fiddle player, plays with Otis now and Zack used to play with Otis.  Who knew?  I didn't know that until they met and started playing together in the studio.
The interconnectedness in the name and the concept comes through in the band members…
Exactly!  The name becomes more and more apropos.  What I just thought was a cool sounding name a first takes on new levels of meaning.
Especially since the sound of the band is among the heaviest I've heard you play.
Big rock!

Cathy with most of the Macrodots in Berwyn, 2009

In this band, you've gotten a lot of people together who you've worked with on other projects in the past.  You've gotten experience and exposure from other folks taking you under their wing as your career as progressed.  Do you see yourself ever returning the favor for the next generation's Cathy Richardson, singing away in the suburbs somewhere?
I would love to!  I'm the kind of person that if I find somebody that I'm really taken with, I'd do whatever I could to help them like I've been helped.  It hasn't happened yet, but it's interesting that through facebook the communication between the artist and fan has really opened up…  Jack's Big Music Show has been on the air now for six or seven years, so kids that were watching that when they were three are getting to be nine or ten. Some of them are even starting to reach out now.   I'll always be happy to throw a tip or connection out.
That'd be a great story.  You've been tapped a couple times now to join Hall-of-Fame bands.  I always wonder what that is like when the phone rings and it's one of your musical heroes on the line asking to join the band.  It happens so many times when established bands are looking to take the act on the road after losing a member.  What's that first phone call like when the offer is made or the idea is planted?
So exciting!  It's like, "this is what I'm going to do next!"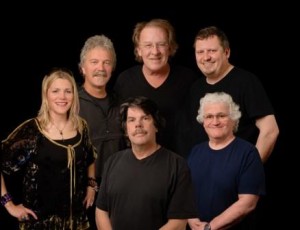 First of all, I was such a huge Airplane fan and Grace Slick fan.  I had this Jefferson Starship "coke mirror" that I won at a carnival in the 80s and a self-portrait of Grace Slick that I bought from her personally while in Hawaii on vacation.  I saw her and knew I had to buy a painting from her so I could meet her.  I feel like I drew this into my existence by hanging these things on my wall. You put things out there and they come into your life.
It's just so perfect for me.  Sometimes I used to think that I was born too late or born in the wrong generation, but it's funny because I still ended up being in those bands and singing that music.
Paul had called me and told me he'd seen me with Big Brother a bunch of times on the road.   He said he wanted to come over and see if I could do this music, too, because it is different.  Now, I would have said yes to doing Jefferson in a heartbeat.   Janis is such a unique sound that I got better at through the years, but the Grace Slick thing was much closer to my natural sound.
So Paul came to my over to my apartment.  I got out all my albums so I could show him I was a big fan.  I gave him a guitar and we're singing "Ride The Tiger" on my couch in my apartment.  The whole thing was just so amusing to me.
We sang two lines and he said "okay, you're in."  So I gave him my copy of Blows Against The Empire; I didn't want him to sign my whole stack so I just picked the one that was like his solo record.  Now I'm thinking that he should have signed them all… everywhere we go, we get approached by all these fans.  I don't know how they find out where we're going to be.  We'll land at the airport and they're standing there with their stacks.  I'm thinking… "I didn't even do that and I had him in my house!"
I'm glad that the band is still putting out great albums and hope you do something else in the future.
In early June, we have a really cool show coming up where we are playing with the Cleveland Contemporary Youth Orchestra where they're backing us up.
I'm always a big fan of the rock / orchestra events since it's just not something you get to see all the time.  Such a unique musical moment.
I was really excited about that.  It's months of preparation and we do it one time in this big pavilion and its being filmed for a television special.  It's cool for the band and a great experience…I've never sung with an orchestra before!