The Terrapin Takes Flight: Camp Terrapin Founder Doug Hagman Talks "Remembering Jerry" and Performing With Grateful Dead Alums
It will be a busy August for Terrapin Flyer founder, guitarist and vocalist Doug Hagman.  He'll hit the road for 9 shows in 11 days with an all-star cast in a routing that spans both Jerry Garcia's 70th birthday and the 17th anniversary of his death (including at stop at Chicago's Abbey Pub on 8/4).  By the end of the month, Terrapin Flyer will topline  its third annual mutli-band camping festival, the newly rechristened Camp Terrapin (8/23-25 @ Stonehouse Park in Earlville... formerly Field Trip Festival).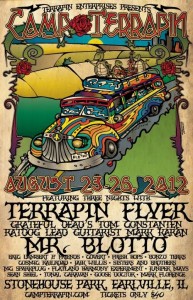 It's a lot of music and likely to be a ton fun for both performers and audiences - but for Hagman, who will also play the role of impresario, press agent, tour manager and general Grateful Dead inspired mirth maker - it is also yet another peak in a wild musical career that has seen him play extensively with members of the Grateful Dead's far flung family.
Hagman describes curating and producing the festival, and various tours, as  "a labor of love".  Recollecting the first festival, he says "that worked really well with a cheap $25 ticket for the weekend.  We had a great draw and everybody had a great time."
The first festival really seemed to energize the local scene.  "I had booked all these band for it," Hagman suggests.  " it seemed a bit like the impetus for this whole local [festival] movement to get started.  I am not certain, but I think some of these smaller fests cropped up the following years were kind of inspired by it."
Many of those festivals have moved into new homes in 2012, and Camp Terrapin is no exception.  "Vasa Park was just wasn't feeling right.  It seemed like time to move on." But when Hagman settled on Stonehouse Park, home of a number of successful 2011 festivals, it turned out that they had pulled their licenses and it looked no festivals would take place at the secluded Northern Illinois venue.  "The other fests that were booked there decided they were going to move since they didn't want the risk of it not happening.  [Stonehouse] called me and told me it likely wasn't going to happen, but I decided to ride it out and see what was going to happen."
To his relief, Hagman received a call two weeks later.  "They said 'things have changed, we talked to the council and it looks like it will happen.'  Other festivals went out and scouted and found new venues.  I just kind of held tight to see what happened.  By the time decision time came, they had chosen new venues and I was the last one standing."
Stressful, but the controversy actually benefits both Hagman and fans.   "Because they are trying to re-establish their brand, they offered me a discount, which allowed me to offer my ticket very reasonably.  After all the drama and chaos, this very cool thing just sort of fell into my hands.  I feel fortunate that we are able to be at that park-- people are really excited that something is still happening there. "
Then there's the challenge of programming the festival.  "My passion is with Grateful Dead music and ultimately that is the foundation of it," Hagman explains.  "As you know, the Grateful Dead influence is so varied.  One of my favorite bands [at the festival] is Bonzo Terks, a free jazz band.  Garcia did some free jazz in his solo stuff."
He cites bluegrass, funk and other styles as branches of that same Grateful Dead tree and promises a mix of those and more at the three day event.  Above all, Hagman values musicianship and is excited to have Mr. Blotto headlining Friday night and the up-and-coming Fresh Hops (Latin-infused jazz led by a fiddle player) also on the bill -- there are 16 acts in all including some other more directly Dead inspired acts like Sisters & Brothers, who dabble in the JGB repertoire.
Members of Doug's extended musical family will also be along for the ride including Ratdog guitarist Mark Karan, former Grateful Dead keyboardist Tom Constanten and 3/5ths of the bluegrass jamband Cornmeal ('Wavy' Dave Burlingame, JP Novak and Kris Novak), who played in once and future versions of Terrapin Flyer.
Regarding a recent practice with the Cornmeal crew, Hagman muses "It's like we didn't take any time off.  We get together and there's still a lot of chemistry -- it was like we just locked in.  Those guys are such great musicians and so good at putting harmonies together.  It's great they had the time to do this and it's really all about their deep love for the Grateful Dead material."
It was while working with this version of ensemble, that Hagman first began what would be one of his trademarks: playing Grateful Dead music with members of the Dead's extended family.  "I was playing the Sunday Night Dead Jam at the Boulevard Cafe (in Logan Square).  That whole thing got started from a forum on the Grateful Dead's website and so we had a page there."  This gave the band enough reknown to be invited to support Vince Welnick at a festival and cable access television show in Wisconsin.
"Vince flew into town -- we had no communication with him.  We just showed up, prepared to play, handed him the set list, and started to play.  It was broadcast live and was really fun.  At that point, we had no website or anything... we weren't doing anything outside of Sundays at the Boulevard"  But that really set things up for what would become Terrapin Flyer and open the door to bigger and better things.
"Prior to that, it was a real loose association at that Grateful Jam, but that experience really solidified us into a band.  That band was Wavy [Dave Burlingame], Kris [Novak] -- I think JP [Novak] came along later -- Jim Farmer on drums.  That was kind of the beginning of Terrapin Flyer."
"Things worked out well with Vince so I contacted Melvin Seals' agent and said I'd like to put a tour together and he told me what we needed to do to that.  I told him we had played with Vince and that was obviously helpful in establishing legitimacy.  I put together a tour with Melvin and that worked out really well musically.  It was Wavy, Kris and now JP was in the mix.  Melvin for whatever reason loves us and we've kept that association going."
"Right before Vince died, he was playing with TC and Bob Bralove in a band called the Psychedelic Keyboard Trio.  I was talking with Vince about doing a festival and getting together a bunch of GD related people so i asked for TC's number."  This proved fortuitous, as tragedy soon struck.  "We had set up a tour as Vince Welnick & Friends and that was to take place when we got the news that Vince had died.  I had two weeks and the tour was in jeopardy of being cancelled.  I had TC's number so I called him up and said let's do a 'Tribute To Vince' tour and he was all about it.
Several tours later, TC is poised to head out on the Road For the 2012 Remembering Jerry Tour, nine dates around the Midwest which commences on what would have been Jerry's 70th birthday.  And there may be other collaborations in the works.  "I'm pretty sure we'll do Colorado with a double bill with Dose Hermanos (TC and Bob Bralove's improv keyboard duo )."
For those wanting to keep the spirit of the Dead alive this is nothing but good news, but it poses a real problem for Hagman.  "How do I keep it going?  I feel fortunate that everything has worked out so well that has allowed us to move forward to the next step and continue to do so."
We look forward to see what's next.