Video: Prince Jams Beatles At Impromptu Hollywood Sit-In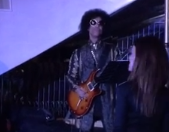 Prince made a surprise appearance at W Hollywood Hotel's jazz night. Initially merely a spectator, Prince reportedly made his way to the stage for a lengthy guitar solo in the middle of the Beatles' "With A Little Help From My Friends" during the set by Ryan Edgar and Nikki Leonti-Edgar.
Watch video of the performance (in glorious portrait mode) below.