Video Recap | Trey's North American Jukebox Tour 2017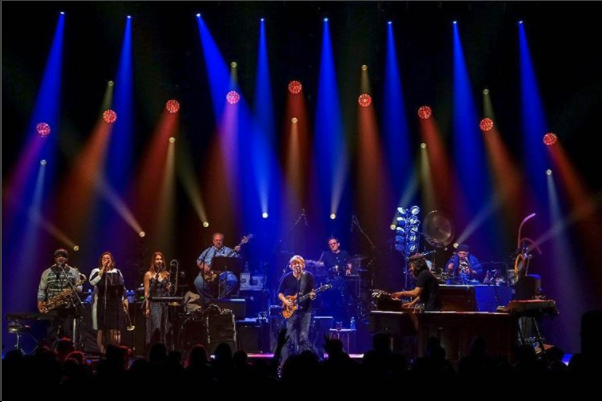 Photo: Patrick Jordan
Trey Anastasio returns to the road this weekend, hitting Philadelphia, Delfest, Summer Camp Music Festival and Red Rocks before a pair of shows in Utah and Montana.
This comes after a substantial Spring Tour that hit some major music markets, that may have rubbed off a bit on the guitarist's ensemble.
While TAB doesn't necessarily have the depth of repertoire as Phish, Trey resurrected the "travelling jukebox" concept from Phish tours of old.  Like the Summer 1998 run, where Phish debuted a new cover nearly every night, TAB was continually adding to their repertoire thought this spring's three week jaunt.
Many of the covers were inspired by their locale, across various regions of the U.S. and Canada (!)  -- so it will be interesting to see what the locations hold for this next spurt on the road.
Let's take a look and listen to what went down.
After a short, early spring solo and acoustic run, Trey and his band kicked off things proper in April with a pair of shows at the Captiol Theatre in Port Chester (4/15 & 15).  The first of these shows fatured the debut of a traditional cover ("The Parting Glass") and two new originals ("Everything's Right" and "Feel It Still"), while the next show in Charlotte is where "Come Together" saw its first stage action.
Then it was festival time.
Atlanta's Sweetwater 420 Festival set was free of debuts, but a festival appearance in Florida provided some real fireworks in the form of an extended Trey sit-in with Bob Weir which spanned Grateful Dead, Phish and Lady Gaga tunes.  That said, the TAB sets at both Wanee and the New Orleans Jazz Festival were fairly standard.
But these appearances may have turned turned something loose in the band, forging the coin that was ultimately dropped into the jukebox.  As they came out firing at Stubb's in Austin, TX (4/29), with the TAB debut of famed Austinite Willie Nelson's "On The Road Again"...
... and an Austin song of more recent vintage, "Work Song" by Hozier.
While April closed in Texas, the jukebox was back in Tulsa, Oklahoma (5/2), with a loving tribute to Col Bruce Hampton (one of his signature songs "Basically Frightened") to open the show on the day after he passed away...
... with tributes to Oklahoma musicians also sprinkled throughout the night.  Leon Russell's "Delta Lady" got a workout in the first set, while two JJ Cale tunes ("Call Me The Breeze" and "Cocaine") got jammed within the encore's "Push On 'Til The Day."  While neither audience recordings nor video of these debuts have surfaced, the recordings are available at livephish.com.
The band moved into the music-rich Midwest next and the jukebox cued up some more tracks.  Chuck Berry's "Back In The U.S.A." was in his hometown of St. Louis (5/3).
In Detroit (5/6), "Ain't No Mountain High Enough" provided some Motown flair.
A border crossing couldn't stop the jukebox, as Toronto (5/7) saw the debut of the unlikely cover of Broken Social Scene's "Cause=Time" at the tour's closing stop.
Let's see what the continuation of this tour has in store for the band.
Update 5/30: The tour continues and the jukebox keeps spinning
First, with Del McCoury and sons at DelFest.
And Trey and band's tribute to Gregg Allman at Summer Camp.
[youtube_video id=""]