Notes From The Jazz Underground, What's It All About?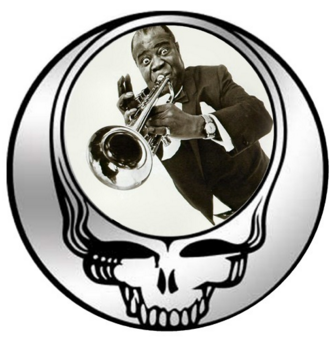 This edition of  Notes From The Jazz Underground was culled from the May 6th broadcast.
For me, this show is what drew me to this program to begin with, even with a little self promotion from host Paul Abella.
Let's start with Grateful Dead.  "King Solomon's Marbles" is a triumph and just hearing those opening notes clues you in to what NFTJU is all about.  As mention, Paul quickly goes from there to Jazz Is Dead, because of course he does.  Having nearly forgotten that Jimmy Herring was in this band, what a nice slice of studio jamming to remind me.
Speaking of reminding... Trey Anastasio's bands have disappointed so often, I may have wiped The Horseshoe Curve from my mind.  Mistake.  This is what made the early aughts version of this band so damn special.
How do you bookend these delights?  Some brand new stuff.  New Snarky Puppy, new Marcus Strickland, new Santana, and a monster Ellington jam leftover from last week's playlist.  Joe Policastro's album isn't even out yet. Tim Lefebrve, of current favorite Tedeschi Trucks band, lends bass to the Donny McCaslin tune.
Oh, yeah... Paul slips in a taste of his own band.  Jazz Plays Dead (the Plays makes all the difference from Is).  It's a red hot fusiony "Shakedown Street" with a wah'ed out guitar and sax doing battle over Abella's beats.
The whole thing ends with Dixie Dregs (remember them?) and Hot Club Of Detroit laying down a accordion fueled swing version of Phish's "Rift".  Weee!
As mentioned, Joe Policastro's album is not out yet, so enjoy this video as a replacement...
Jazz Is Dead - Let It Grow
Jazz Plays Dead - Shakedown Street
Complete Playlist
| | | |
| --- | --- | --- |
| Track | Artist | Album |
| Chinoiserie | Duke Ellington | The Afro-Eurasian Eclipse |
| Wave of Mutilation | Joe Policastro | Pops! |
| Velouria | The Bad Plus | Give |
| Weather Report Suite part 2: Let it Grow | Jazz Is Dead | Laughing Water |
| King Solomon's Marbles | Grateful Dead | Blues for Allah |
| The 5th Round/The Horseshoe Curve | Trey Anastasio | The Horseshoe Curve |
| Fillmore East | Santana | Santana IV |
| The Big Ugly | Snarky Puppy | Culcha Vulcha |
| Go | Snarky Puppy | Culcha Vulcha |
| Spiralmind | Ozric Tentacles | Waterfall Cities |
| Love What Is Mortal | Donny McCaslin | Fast Future |
| Mirrors | Marcus Strickland | Nihil Novi |
| Shakedown Street | Jazz Plays Dead | Demo Sessions |
| Ionized | The Dixie Dregs | Full Circle |
| Rift | Hot Club of Detroit | Junction |