Wonder Woman: Janis Wallin Takes On Stevie At Abbey Pub
One thing I've long admired about Chicago music scene is the community. Fairly removed from music industry bigshots on the coast, there is not an overwhelming sense of competition, no ruthless fight to seize some limited opportunity for a big break. Talent, creativity and social graces correlate to your happiness and ultimately success.
Bassist Janis Wallin knows a thing or two about this. Not only is she no stranger to the stages and audiences of her Chicagoland musician friends, she's taken the reins of a Halloween tribute to Stevie Wonder at Abbey Pub (Saturday, October 27th) which features a whole cast of them.
While the entire night is programmed to the push buttons of all sorts of Chicago music fans, the Stevie Project stands out as particularly ambitious. With a diverse set of participants, a relatively untapped repertoire by the Motown legend, and the opportunity to get the funk out (led, of course by Janis' groovalicious bass), the set looks to be a key part of the holiday celebration. The Barn got a chance to catch up with Wallin to see went in to planning the festivities and what fans can expect (don't worry, there are no "spoilers") on Saturday night.
How did you get the idea for putting together a Stevie set?
I've always dug the hell out of Stevie Wonder, and Family Groove Company recently performed a version of "Living for the City" at Shoe Fest that was a lot of fun. When the Abbey Halloween opportunity came up shortly thereafter and I was faced with the question of which artist to cover for the set, I got really excited about having a reason to delve further into Stevie's catalog.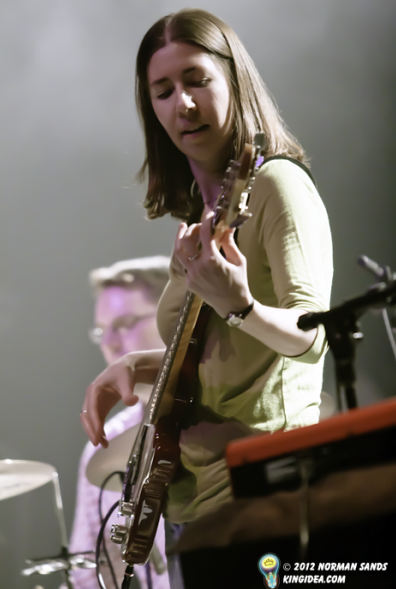 Are you playing the role of "musical director" or is this a group effort?
Logistically speaking, so far I've been in the "musical director" role for the project, in terms of picking out the musicians, deciding on the setlist, corralling everyone together. But I've got a really talented group of folks assembled, so I think once we hit the rehearsal studio to prepare for the show, I'll definitely be calling on them for input and ideas.
What went into creating the lineup for this particular show?
Picking out the musicians for this show was a lot of fun. I felt like a mad scientist assembling the perfect combo. The drummer slot was a no-brainer with Mattias Blanck from FGC, who I've been working with for over 11 years now. Stevie's music is so groove-based, I really needed a drummer I could lock with. For guitar and keys, I called upon Joe Marcinek and Waz, who I've actually played a bunch of Stevie tunes with previously at Joe Marcinek Band gigs. Those two have a solid history together too, so I think they'll be a nice complement to Mattias and me. I'm borrowing the horn section from Genome (Kyle Madsen and Xavier Galdon), and I think their tight funk background is really going to make the tunes pop. The vocal slot for a Stevie tribute is probably the toughest base to cover, but I think Jaik Willis and Stefanie Berecz (from The Right Now) are really going to kill it fronting this band. I have a couple other guests scheduled as well, and I'm pretty excited about the lineup as a whole.
Have there been a lot of rehearsals, or will this be more spontaneous?
We've got a rehearsal coming up prior to the show, but with the caliber of musicianship on board, I'm hoping we'll be able to take some chances during the set and have some fun impromptu moments.
Any tunes that you are particularly looking forward to performing?
I don't want to give the set away, and I honestly don't think I could single out any tunes. I'm looking forward to playing them all!
Is this the first time you have done something like this? If not, what comes close and what did you take away from that experience?
This is the first time I've headed up my own project like this. The control freak in me is just loving it. Family Groove Company has done a bunch of Halloween shows in the past where we performed a set covering a single artist, ranging from Elton John to Green Day. It's really fun and enriching to delve into the music of a single artist. It's interesting to get a broader scope of their work, rather than just covering one tune here and there amidst an original set like we normally do. You come away from it with so many new ideas and inspiration for songwriting, grooves, arrangements, etc.