Long Live Jambands: Three Types (and 16 Examples) Of Bands Keeping The Jam Torch Burning
"Jambands are dead!  Long live jambands!"  That's a bit of wordplay that my friends and I have been tossing around since sometime in the early 2000s.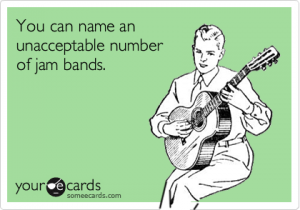 There is a roughly 15 year stretch -- from "Touch Of Grey" being released as a single in 1987 to the inaugural Bonnaroo in 2002 -- that represents the last era of peak jamband.  It was a time when at least some aspect of youth culture was significantly affected by improvisational music and its various trappings.
Twelve years later, it seems like EDM, indie-rock and a more generic "festival" culture has subsumed the cultural role that jambands once held.   Yet jambands refuse to die.  And not just the nineties touchstones that rode Phish's coattails to 'roo's front stoop.  There is a whole other wave of bands that cherish unpredictability, chops, community and fearless genre mashing that are gigging clubs and keeping that spirit alive.
And while (oddly) it's actually become kind of cool to like Grateful Dead, and sometimes even Phish in some decidedly hip circles, most people will take any chance they get to shit on the very concept of jambands.
I get it.  We're not always looking at the most innovative collection of talent.  Taken as a whole, their lyrics and song titles can lean towards aggressively stupid.  Vocal chops are typically an afterthought to instrumental prowess.  They can wear quirkiness on their sleeve in a way that just seems wrong.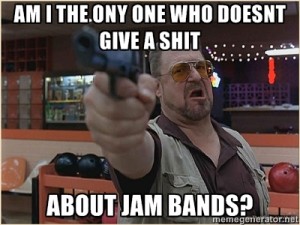 I'm not exactly making a winning case for this crew.  But there is also a certain joy in following these bands.  Any success they achieve is grassroots, built on work and talent over luck.  It is an antidote to the style-over-substance, television-show-singing-contest music industry that has prevailed over the last decade.  And you never know when, in any given song on any given night, something completely outrageously awesome will happen -- these bands are taking risks and putting it out there, converting opportunities to create moments that 1000 indie bands couldn't touch with a 10 foot stick.
So acknowledging all of this, I've rounded up a list of some of the brightest spots in this scene and, to provide the proper perspective, lumped them into three categories.
The first group, I believe have the ability to transcend the jamband label.  Built on all of the elements that made the great jambands great, yet breaking down conventions or building significantly upon what came before them.  Their talent is just too significant ignore.  Their tunes are heavily rotated, unapologetically and without that weird jamband shame that can sometimes creep in.  I call these the Transcenders.
The second group are bands that have a deliberate retro feel, capturing the warm tones, obtuse melodies and deep grooves that old-school jambands specialized in.  I've seen bands enter a similar place with sixties psychedelia, seventies country rock, or blues based hard rock -- their art is about exploring the sound of a certain place and time and updating for the current age.  Make no mistake, each of these add a little something of their own to the mix as well -- but these acts are fans that love the jamband sound and serve to honor and emulate it.  I call them the Self Aware.
The final group follows a more direct lineage from the last round of super successful jambands.  As if nobody told them jambands were no longer en vogue, they keep plugging away at the tropes and conventions, evolving them slightly to meet their personnel and specific influences.  They are more likely to own a niche and try to poke for its outer limits with an improvisational edge: think heavy funk, bluegrass or electronic.  If ever there were a jamband renaissance, this is the group that just may lead the charge.  I call them the Next Wave.
Let it also be known that I tried to limit "established" jambands from this list.  If they're already getting spots in the top 3-5 lines at major festivals or pulling big crowds from coast-to-coast (I'm looking at you Greensky Bluegrass), they don't qualify. I'm keying in the road warriors, the rising regional stars and the after-show bands vying for your attention.
Check out my Long Live Jambands Spotify playlist (also embedded below) for a representative track from each of these bands.
1. The Transcenders
Kung Fu.  Yeah, they've got an awesome jamband pedigree, featuring Tim Palmieri (other-worldly guitar, The Breakfast) and Todd Stoops (heavy funk keys, RAQ), but they're still new-ish and are just now entering a road-warrior phase behind the release of Tsar Bomba.  Leaning towards amped up fusion than straight jamband, they've certainly got the chops.  The question for Kung Fu:  can they balance their more bombastic playing with elements that will win over larger crowds.  If so, watch out.
Twiddle
. Of the transcenders, this is the one that looks most like a jamband.  Nobody quite
nails the everything-all-the-time sound that Twiddle reels off effortlessly
.  Their songs can be beautifully long, adventurous, aggressive -- one can easily forget where some of their jams came from before realizing they better just strap themselves in and ride them out to wherever they're going.  Hell, they're even from Vermont (*wink*).  I deem them most likely to latch on with audiences based on pure ability.  They're going to have a lot of folks seeing them during festival sets or opening slots instantly converted.
The Stepkids.  Their website describes themselves as an "American psychedelic soul band."  Hey!  That almost sounds like a jamband trying not to get typecast -- the hallmark of every great jamband.  But this Connecticut trio is willing to improvise live with an added bonus of compelling vocals and commitment to a unique visual experience.  Here's a set complete with covers and 10+ minute jams from moe.-down.  The main promo image on their website even features the band members donning tie-dye dress shirts.  Already darlings of the indie music press, there's a real possibility that they can explode in popularity.
Chris Forsyth's Solar Motel Band.  Here's a band that is damn near academic in precision and execution, and because of this comes across as about 100 times more serious than any other band on this list.  In fact, I may be the only person in the world willing to toss them in with a bunch of jambands…  but hear me out.  The very best jambands have ability to make improvisational music sound composed .  Guitarist Chris Forsyth has tipped the tables a bit and offers some composed jams that sound improvised.  The band's self titled album features stunning, extended guitar solos that bridge that gap between Jerry Garcia, Tom Verlaine and Thurston Moore.  It's one of those bands that musicians and critics love -- but has the cohesion and psychic connection that jamband fans crave.
Cabinet.  Bluegrass and tradition are a curious mix.  Stray too far from tradition and you enter goofball territory… cling too close and you sound just like everybody else.  Cabinet finds the middle ground and seem to do so effortlessly  Built on a charming, meaningful song craft, they twist bluegrass conventions just enough to find an improv space that hasn't been pored over a thousand times over, but still sounds weighty, even essential.  Workmanlike, yet fun.  Defiant, yet accessible.  Defying expectation yet fulfilling every need. What a band!
(These guys may soon be too big for this list.  Since I begin compiling, they've been added to the lineup for the second annual Lock'n Festival.  Congrats!)
2. The Self-aware
Spafford.  Western-USA jamband… arise!  I'm not sure if any band could possibly be more self aware than Arizona's Spafford.  Case in point:  check out this cover of Phish's "Wolfman's Brother". It begins like any other Phish cover band's version, hitting the right notes and heading into the improv section.  Until at one point it just blows the fuck up, finding little jamming spaces that hadn't even explored much by Phish until it ends 24 minutes later.  Did I mention this was performed at a wedding?  The originals are ambitious in this same vein.
Aqueous.  Aqueous is just about as polished a band as you'll find on this list.  They seem to emphasize harmonies to complement their  moe.-style dual guitar attack. With lengthy, multipart songs and there's plenty of major key, upbeat material to explore… but don't expect to get pushed too close to the edge.  If you want your jammers to stay in the light, this may be a good option.
The Mantras.  Their most recent album is entitled Jambands Ruined My Life, so self-aware definitely seems to apply.  This group of North Carolina jammers find inspiration in the full gauntlet of jamband spectrum:  you can hear bits of Phish, fellow Southerners Widespread Panic, String Cheese Incident and The Dead in what they do.  Hell, Umphrey's McGee's Jake Cinninger even produced the thing, so it was appropriate that they tipped their cap to UM at a recent Chicago show.  It's a nice synthesis that manages take in all of those successful bands and still manage to sound like themselves.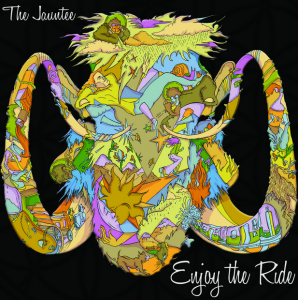 The Jauntee.
 So, yeah, they sound like Phish.  But what matters with The Jauntee is what
kind
of Phish -- not necessarily the prog-rock early years nor the three-chord majesty of the late nineties.  They hone in the sound of 
Rift-
era Phish and that's just fucking fine by me.  Because to my ears that's kind of the hidden-in-plain-site pocket of Phish compositions where they really hit their songwriting stride.  And just as soon as it appeared, it vanished in favor of the mixed bag eclectic pop of
Hoist
.  Consider The Jauntee part of an alternate universe where Phish stayed in that space and decided to explore for a bit.  Pretty electric stuff.
Sprocket.  New York City -- once a hotbed of jam culture -- has seemingly moved on from incubating jambands of note.  Enter Sprocket.  I'm not gonna lie, some of their songs from Tropical Bushwick make me cringe.  They are that obviously gunning for jamband acceptance.  If these guys could step aside, take in some of the non-jamband influence that is all around them in NYC, the talent is there to steer the energy of that great city into the next great Big Apple jamband.  Don't believe me?  Check out their track on the playlist below and fasten your seatbelt.
Strange Arrangement.  I hesitate to put them here, because I'm not sure of their status of as a band any more.  However, Strange Arrangement has been one of my favorite bands to emerge from Chicago over the last several years.  They sit precisely at the nexus of jazz and rock, electronic and organic.  Their songs contain just enough hooks to keep you humming them, but just enough ferocity to make you shake your head in disbelief.  A damn near perfect jam band for a new age.  Here's hoping we see more of them.
3.  The Next Wave
Dopapod.  From their website: "Dopapod is not so much a jam band as they are a band that improvises."  Nice evasion, guys, but the first sign of being a jamband is denying you're a jamband.  That said, they do well integrating heavy funk and metal elements into their improvisational milieu.  Embrace it, Dopapod, your music does sound like nothing else. +1 for these guys: they have a huge fan in celebrity YouTube videographer mkdevo, who has offered some excellent captures of their live shows.
UV Hippo.
 Embracing the progressive rock side of the jamband label in the same way that Umphrey's McGee once used to establish itself in the early 2000s, they offer wild sprawling compositions with astounding certainty.  Complete with their own set of kick-ass, show-stopping covers, this Michigan crew making noise all over the Midwest.  Like many of the jambands that came before them, if they can ever crawl out from such an awful name -- Ultraviolet Hippopotamus -- they can carry the improv torch and end up inspiring another generation of music geeks.
The Heavy Pets.  From South Florida, the Heavy Pets have the work cut out for them when it comes to spreading their music to the rest of the country.  Their angle… embrace the Grateful Dead and Allman Brothers Band style jamband in a world where Phish seems to have dominated the prevailing aesthetic.  As an avenue for improvisation, country rock should not be overlooked, and works quite well.  The Pets can generate smiles as wide and fuel dance parties as wild as any ultra-quirky, heady jams from their jamband peers.
The Werks.  While livetronica (or live EDM, or untz, or whatever you call it) could supply enough candidates for a whole 'nother list, I include The Werks here as a band that relies more on their live chops than their programming to get the party going.  Reminiscent of the early days of STS9 or Bisco before they slid into a place where they were equal part electronic producer and band, they are a next wave jamband who leverage technology judiciously to complement what they do on stage.  I happened upon one of their videos in my feed a few months back, and was impressed enough to post about it here.
Whitewater Ramble. The jamgrass explosion of the nineties was anchored around Leftover Salmon and String Cheese Incident, but also set off a parade of other Colorado acts looking to harness that sound.  Some have succeeded, others have vanished, and another wave is just now bubbling up, with varying degrees of jamminess.  Whitewater Ramble is probably the group in this space most committed to improvisation, building a danceable improv sound from slick fiddle, mandolin and guitar licks, a swinging rhythm section, solid vocals and tunes that scream to be opened up wide.