Dylan and Staples To Kickoff Concert Program At New Chicago Arena
Wintrust Arena, a 10,000-capacity venue, still unfinished, sits on the Near South Side as part of the McCormick Place Convention Center awaiting its grand unveiling this fall.  In addition to supplienting the already vast convention space in the complex, it will serve as a venue for DePaul University's basketball teams as well as the WNBA's Chicago Sky.
But its promise has also been as a mid-sized, centrally located arena-style concert venue -- for a certain size and type of show, a modern, newly constructed replacement for the aging UIC Pavillion.  Wintrust will feature 22 suites and club seating.
The broader vision for the arena includes a nightlife, hotel and entertainment district adjacent to the facility.  Increased access to public transportation via a new Green Line station is also planned.
The first show announced seems to anticipate what other entertainments to expect -- Bob Dylan announced a Chicago date on his Neverending Tour for October 27, the debut performance at Wintrust Arena.
The concert will feature legendary Chicago soul-singer Mavis Staples as an opener, making the show even more significant to the city.
"The music of Bob Dylan and Mavis Staples defined generations and I can't think of a better inaugural performance for this new venue on the South Side of Chicago, Mayor Rahm Emanuel said in a statement.
Tickets for the performance go on sale Friday, September 15 here.
See an artist's rendering of the venue in use below.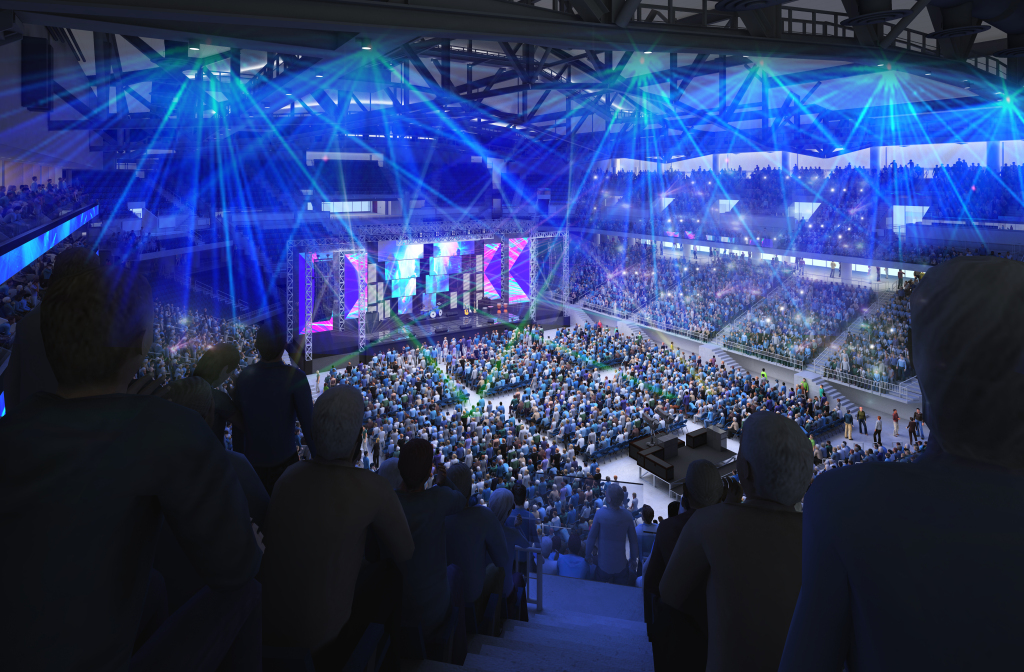 And take a peek inside in this (admittedly DePaul basketball-centric) report from WGN News below.
We're looking forward to seeing what else promoters may put into this location.