The Art Of Shoe Fest - Site Map, Poster, Schedule Grids, Word Scramble
Today is the last day to get pre-sale tickets for the 2012 edition of Shoe Fest.  The concept behind this local festival is a simple one: build the lineup like an invite to a family reunion.  Bring together friends and like minded musical spirits from around the Chicago area and Midwest.  These are the bands and musicians that have gigged together throughout the region, invited each other to their local residencies and shared festival bills throughout the summer  There is a ton of mutual respect up and down the lineup.  Add a couple of national attractions as well -- this year's blockbuster is Keller Williams, who performs Saturday night with the Keels -- that fit right into the spirit of the fest: organic, improvisational, fun... an acoustic and electric blend. Festival organizer, Old Shoe's Matt Robinson articulated this quite well with The Barn in advance of last year's fest.
They then mix these elements into an idyllic setting -- this year's is the bucolic Camp Shaw-Waw-Nas-See near Manteno, IL -- something special is sure to emerge.  This location is the antidote to the overwhelming and chaotic nature of some of Chicago's music festivals.  And the music, and other scheduled activities (Hula Hoop and Kung Fu workshops, swimming), will certainly follow suit.
One of the things that has really reinforced these themes are the graphics associated with the festival.  They are clean, concise, employ creative colors schemes and logos and are totally evocative of the personal and relaxed vibe of the festival.  I am sharing a few items here that not only are beautiful, but should also serve as useful tools to help you navigate the fest (or have a little fun).
Site Map
Wow! Tons of shady camping, a pool and a river.  Where has this site been hiding?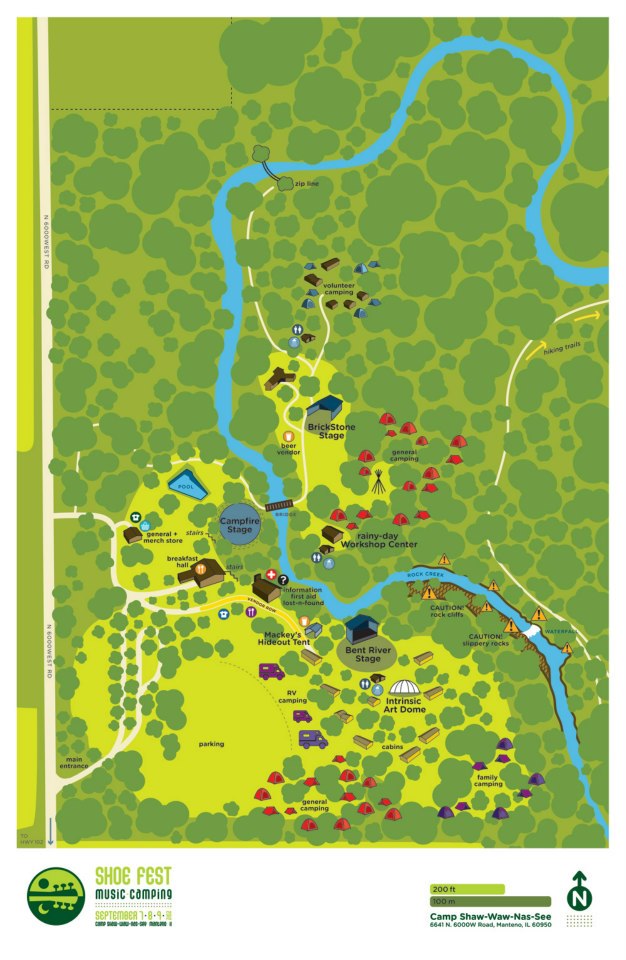 Schedule Grids
Barn's Best Bets
Friday: Early arrivers should check out Brown Bag -- area up-and-comers that embrace the jam. Euforquestra has a world-music flavor that screams outdoor festival.  Hosts Old Shoe takes the after midnight shift after friends FGC play one of the longer night sets.
Saturday:  Daytime is packed with goodies, but save your energy for the block featuring Henhouse Prowlers, Keller and Strange Arrangement.  A long stretch of music with two styles of bluegrass picking capped with a healthy does of the jam.  National headliner sandwiched by local power.  Got to love it.
Sunday: Get going with an little Sunday Jerry with Sisters and Brothers -- who will likely have a gospel flavor to their set.  Giving Tree Band doesn't play enough of these types of festivals so take advantage while you can.  Finally, Rumpke Mountain Boys are a Cincinnati import that will provide a late night, festival capping pickfest that is not to be missed.
Poster
Consistent in tone, if not in style.  This festival poster by Meerk continues the flavor of other official festival outputs.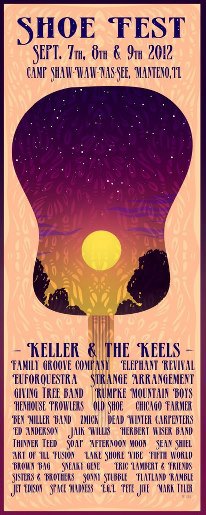 Unscramble Challenge
Yes, the "answers" are all above, but I thought this was an outstanding way to reveal this power packed lineup.  It was packaged so incredibly neatly that I wanted to share here.
Have fun at this year's Shoe Fest!