Widespread Panic Fan's Guide To Chicago - Spring 2013
There have been hiatuses, New Year's Runs, Wood Tours, and gigs En La Playa, but there hasn't been a full on electric TOUR from Widespread Panic, since they stepped off the stage in Chicago on Halloween 2011.  That changes this week in St. Louis, but the first weekend stop finds them bunking down in our city for two nights at the UIC Pavilion.
As the first big city weekend stop, the full carnival is in effect and I know many of our out-of-town friends will pay us a visit.  I want to welcome everyone here, and provide some details on the venue, area, and tons of Panic related things to do around town this weekend (for everything else, go pick up a guidebook).  As this is Panic-centric, I'm hoping this stuff is useful for Chicagoans as well and we even have a ticket giveaway as well.
Getting There
Your easiest and safest route is public transportation.  The Blue Line (Racine Stop) is about a half a block from the venue's front door. The main buses are the 60, 7, 120 and the 8 that will get you in the general area of the UIC Pavilion.  Cabs are also relatively easy post-show.
There is paid parking in a covered lot adjacent to the Pavilion and an open lot across the street.  Lots tend to open at around 4 or so and they do tend to fill up fast.  A moderate lot scene is accommodated, but definitely keep your eye out for Chicago's finest.  Street parking is typically either metered (pay a box and print a ticket for your dash) or zoned for residential permit only.  You may be able to find spots that are neither if you follow Racine across 290 and walk to the show.
The South Loop bar Reggie's offers a bus to the shows for a park-and-ride option (also some pre-show and after-show options...see below).  Spaces do fill up, so contact them for availability.
For more information, visit Directions & Parking.
In The Show
For the old-timers who remember seeing Panic at the UIC Pavilion between 1999 and 2003, you will notice something different this time around.  The venue now serves alcohol!  While drinkers may rejoice, this addition doesn't comes without its drawbacks...
The facility was not setup for drink service, so makeshift stands are setup in the cramped hallways, reducing traffic flow to a crawl during setbreak.  The already inadequate restroom facilities become even more taxed with much more liquids being consumed (ancillary port-o-lets are setup near exits to accommodate overflow).  Keep this in mind.  Your best bet for drinks / bathroom is during the show.  Pick a groaner, and make a break for it.
Other than that, this is a small university basketball stadium with a capacity under 10,000.  The balcony is small and the floor is relatively tiny.  For Chicagoans, however, this represents a bit of an expansion as almost every WSP show since 2003 has been played in the smaller Chicago Theater, save for one run at the Auditorium and Halloween night at the Aragon.
What To Eat
One of the great pleasures of visiting Chicago is the food.  I certainly can't provide you with a complete guide to the city's culinary experience — that is up to your own tastes and budget and there are plenty of resources to help you.  However, I can give you a few places to check out within a few short blocks of the venue.
The food at Tufano's is fairly standard Italian fare, but it is right across the parking lot from UIC and is a great spot for groups.  For more interesting dining that is very close to the venue, head to Chicago's GreekTown along Halstead for authentic Greek food and a Chicago specialty "flaming cheese" (don't ask, just order) — Greek Islands is a best bet.
For faster, grab-and-go type fare, try Chicago's signature sandwich, the Italian Beef, at Carm's Beef.  Or, for some good Italian subs to-go try Fontano's, which also doubles as a convenience store for other sundry items you may need.  Both are walking distance from the venue.
More Music and Activities
Thursday
The parade of Panic related shows starts even prior to the band's arrival in town, with a pair of collaborators playing a show each.  Panic friends Bloodkin play a pair of shows over the weekend.   The first will be Thursday at Martyrs, which definitely gets my vote for one of the best clubs to see live music in town.  Another reliable Panic partner, Jerry Joseph will bring the Jackmormons to the Chicago House of Blues.  Thursday's show starts at 10pm, where Friday's has a more post-Panic friendly start of 11.
CLICK HERE To Win Tickets! Bloodkin @ Martyrs
If you're looking to diversify the musical palatte for the weekend -- we've got you covered with jazz (John Scofield & The Hollow Body Band in Evanston), funk (Chicago's brilliant up-and-comers in The Heard at aliveOne) and rock (Living Colour's reunion tour hits the clasy Park West).
Those staying downtown on Thursday might want to check out some of our favorite local jambands.  Though I can't recommend Hard Rock Cafe (if you go... I think you know what to expect from the venue), the jams will be flowing with Brown Bag, Fresh Hops and Digeometric (all Barn favorites).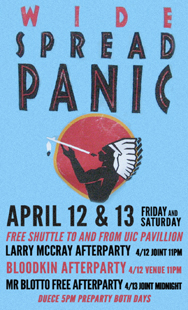 Friday
As mentioned above, Reggie's offers a party bus that will shuttle you to and fro the venue, with Deuce jamming pre-show in the lounge each day at 5pm.   Afterwards on Friday, you have a choice of blues guitarist Larry McCray or Bloodkin's second weekend show.
Billed as the "Official Widespread Panic After Party" (whatever the hell that means), Florida jammers The Heavy Pets will headline a pair of shows Friday and Saturday with pedal steel virtuoso Roosevelt Collier of The Lee Boys as a special guest at The Back Room.  The aforementioned The Heard will also appear.  The good news if you're rearing to go?  These shows will definitely run late, expect to keep going until around 5am.
But my pick to click is Old Shoe, who conveniently located their after show party walking distance of the Pavilion at Bar 10 Doors.  If you're looking to extend the night just a little bit without driving across town this is your best bet for tasty folk rock jams and covers.
If you're looking for something to do during the day, it bears mentioning that the Chicago Cubs host the World Champion Giants for three weekend games at Wrigley Field.  Plenty of good tickets still available.

Nearby on Saturday, will be a Panic-related pre-party.  Wrigleyville's Toons Bar and Grill will host a Pig Roast featuring music by Panic Fans DJRC and CubanStack.  $15 gets you all-you-can-eat pig, Annie's famous pasta salad, coleslaw, Puerto Rican rice and beans, and several of our house made sauces. Food will be ready at 3pm.
Is shopping on your Chicago agenda?  Music lovers will have a field day at the CHIRP Record Fair.
Get your Dead-0n with Chicago's Terrapin Flyer, a Dead collective that features members of Cornmeal, JGB, Ratdog and, yes, The Grateful Dead themselves back at Martyrs.  Our friends in Joe Marcinek Band open the show, so there should be plenty of Dead left by the time Panic lets out.
Goose Doctor has the walking distance gig Saturday at Bar 10 Doors, while Chicago jamband stalwarts Mr. Blotto take the post-show duties midnight at Reggies (and its FREE).
Magoo & Friends has a laidback Panic vibe and feature former Hello Dave guitarist Magoo and our friend Mike Hines. They'll play a free post Panic set at Windy City Inn.
If you're thinking more funk, the jazzy Spare Parts pair with the more prog-oriented Brainchild at Abbey Pub.  Or, Brian Jordan of Karl Denson's Tiny Universe will hold court at the cozy Tonic Room in Lincoln Park.
One more late breaking free option: If you're looking to get weird, Bonzo Terks - our favorite Chicago boundary pushing jazz combo - will play at The Store in Lincoln Park.